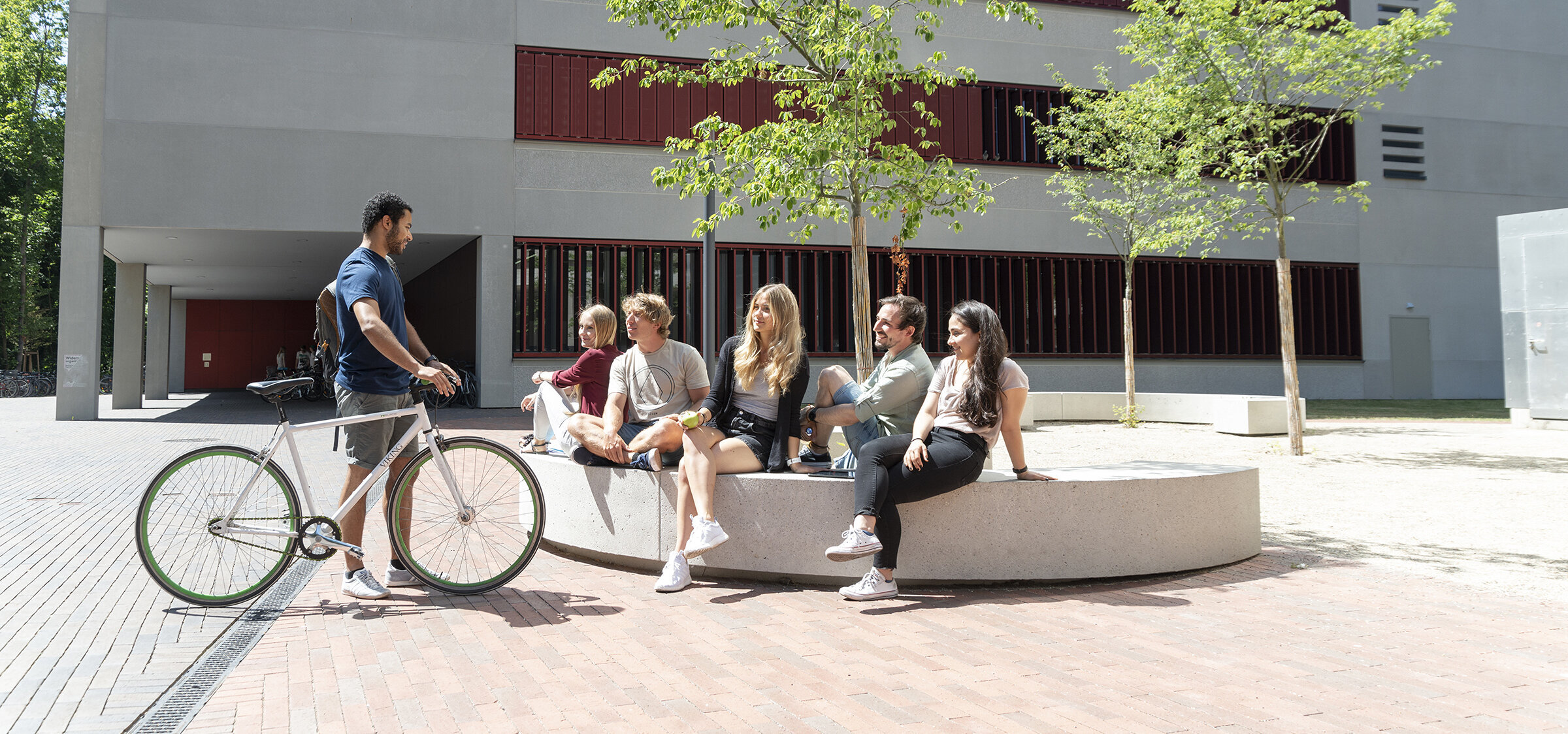 Information for international students
On this page, as an international student you will find answers to some of the questions you are bound to ask yourself before starting your studies at HKA: Do I need a visa or residence permit? How do I get health insurance? How do I get to Karlsruhe? How do I enroll at the university? Do I have to pay tuition fees and, while we are on the subject of money, how do I get a German bank account?
Once you have received your acceptance letter from HKA you will need to find out about entry requirements and residence permits in Germany. Depending on your country of origin, you will need to do the following:
Students from EU countries: You do not need a visa. As soon as you are in Karlsruhe you have to register at the Aliens' Office (Ausländerbehörde).
Students from Andorra, Iceland, Canada, Liechtenstein, Monaco, Norway, San Marino, Switzerland, USA: You do not need a visa. As soon as you are in Karlsruhe you have to get a certificate of freedom of movement at the Aliens' Office.
Students from other countries: You need to apply for a visa "ZU STUDIENZWECKEN" (for study purposes) at the German Embassy or Consulate responsible for the region where you live. The visa is usually only valid for 3 months after your arrival in Germany and must be renewed once you are in Karlsruhe.
Visa regulations change from time to time. You can check at the list of states provided by the Foreign Office whether you actually need a visa. Here you will also find first information on the visa procedure. Afterwards, you can find out which embassy is responsible on the list of German missions abroad. Here you will get details about the visa process (exact procedure, forms, ...). Please do this as soon as possible because the visa procedure can take several weeks!
If you entered Germany without a visa or on a tourist visa you cannot apply for a study visa here. Therefore, we must strongly advise you not to come to Germany to study on a tourist visa or without visa! You will not be able to register as a student without a study visa but will have to travel back to your home country to complete the formalities first.
Please keep in mind that it may take some time to get all the documents you need to apply for a visa:
For example, a valid passport, proof of required funds, or a health certificate from a doctor.
These requirements may vary depending on the country, so please check the German Embassy website directly to find out exactly which documents you need.

After your arrival in Germany:
Every person living in Germany must report their address to the Aliens' Office.
Students from EU/EFTA countries apply for a "Freizügigkeitsbescheinigung".
Non-European students must have their visa converted into a residence permit.

Please note:
You must register in the city/town where you live.
If you live in a different city a different Aliens' Office will be responsible for you.
If you change your address during your stay in Germany, you must also inform the Bürgerbüro / Ausländerbehörde.

Aliens' Office Karlsruhe:
The Aliens' Office Karlsruhe offers two ways to apply if you need a residence title issued or extended:
Online or in person.
You can find more information here.

You must register within the first few weeks after your arrival in Germany.
Find out at the Bürgerbüro which documents you have to present and bring all of them to the appointment (e.g. visa, passport, landlord confirmation, notification of admission, completed form).
You can also register online at the Bürgerbüro.

You can find more information here.
A valid health insurance or an exemption from statuary health insurance is part of the requirements for enrollment. It is mandatory that students have either before their arrival, even for short study stays in Germany. The university needs to receive a digital notification about your insurance status. These notifications can only be send by statuary health insurance providers. Therefore every new student has to send their insurance insformation to a stautuary health insurance provider and ask for a M10 notifcation to Hochschule Karlsruhe.
Students under the age of 30 require full health insurance, including long-term care insurance. Statuary health insurance provides this in any case and is offered by the AOK, TK and other insurance companies. A list of all statutory health insurances can be found here. The costs are about 120 euros per month. You can also choose other insurance options, but they need to be approved by a statuary health insurance company. You would also need to fill out and sign an application for exemption which will be provided to you by the statuary health insurance company you contact.
Students over 30 years of age cannot apply for staturay health insurance. You must apply for private health insurance. You can also apply for private travel insurance. You still need to send the documents to a statuary health insurance provider and ask them to send a M10 notification to Hochschule Karlsruhe.
Students from EU countries do not need additional health insurance, if they have an European health insurance card. Students from Turkey or Switzerland with AT-11/BH6 etc. insurance also do not need additional insurance. To be on the safe side, please always check with your health insurance in your home country to see if the insurance is also valid for a study stay in Germany. You also still need to send your documents or your Europena helath insurance card to a statuary health insurance provider and ask them to send a M10 notification to Hochschule Karlsruhe.
If you hold an insurance from your home country or are insured through a scholarship you must apply for an exemption through a statuary health insurance provider. Your insurance certificate must be valid for the entire duration of your stay. You must present this certificate to a statutory health insurance company before your arrival in order to receive an exemption from the statutory health insurance.
Nearest airports:
Frankfurt Airport (FRA):
Continue by train (direct trains available) or by bus to Karlsruhe Hbf

Baden Airpark (FKB):
Continue by bus to Rastatt train station, then by train to Karlsruhe Hbf

Stuttgart Airport (STR):
Continue by train or bus to Karlsruhe Hbf
Taking the train:
It is possible to buy train tickets without seat reservation in Germany even shortly before departure. You can get them at the ticket machines, but also at the service counters at the station. Of course, you can also book your tickets in advance via Deutsche Bahn's mobility portal (also in English and other languages) or via the app DB Navigator. There you can also easily search out the cheapest connections.
There are express trains and regional trains. Express trains: IC and ICE – they are faster and more expensive. Regional trains: RB, RE, IRE, S-Bahn – they stop more often, but are cheaper. Please note: You may not take an express train when holding a ticket for a regional train.
Baden-Württemberg-Ticket: With the Baden-Württemberg ticket you are only allowed to take regional trains and often use local transport in cities. The special feature: The Baden-Württemberg-Ticket is valid all day and throughout Baden-Württemberg for an unlimited number of trips for up to five people. And it gets cheaper the more people travel with it. When buying the ticket you take into account the number of people traveling with you. For one person, the ticket costs 24 euros, for two people 30 euros, so only 15 euros per person ... You can buy the ticket directly at the ticket machine. More information here.
Arrival by bus: Karlsruhe train station is also served by numerous long-distance bus lines, such as Flixbus, BlablaBus, Eurolines, or BusFor.
Public transport in Karlsruhe: KVV
Here you can find information about the Campus Card, which also serves as a semester ticket for local transport.
Campus Map of Karlsruhe University of Applied Sciences.
Exchange students and students of the English-language Master's programs (Sensor Systems Technology and Geomatics) receive information about registering from Anna Tillhon of the International Office. General information about the requirements can be found here.
International students from non-EU countries are charged tuition fees. Further information can be found here
You will need a "checking account" so that you can transfer tuition fees, if required. The dormitory deposit will also be refunded to this account when your study stay is over. If you have a part-time job your salary will be transferred there and possibly the tax refund.
Please get quotes and check the terms - a checking account should not cost a fee. Ask about special accounts for students.
You will have to wait a few weeks to receive your bank card but if you need to access your account during that time (for deposits or withdrawals), inquire with the counter staff.
Please remember: If you overdraw your account you will receive some credit from the bank, but you will have to pay interest on this borrowed money.
When you leave Karlsruhe you should leave your account in place for as long as you are still in Germany and then cancel the account from your home country. This way, money can still be transferred to you if there are late repayments. You will need to take the cancellation forms with you to do this. Please inform the bank of your valid home address before you leave.
Looking for accommodation
Information on finding housing specifically for international students can be found here.
Information about organizations and possible activities in Karlsruhe that are especially interesting for foreign students can be found here.