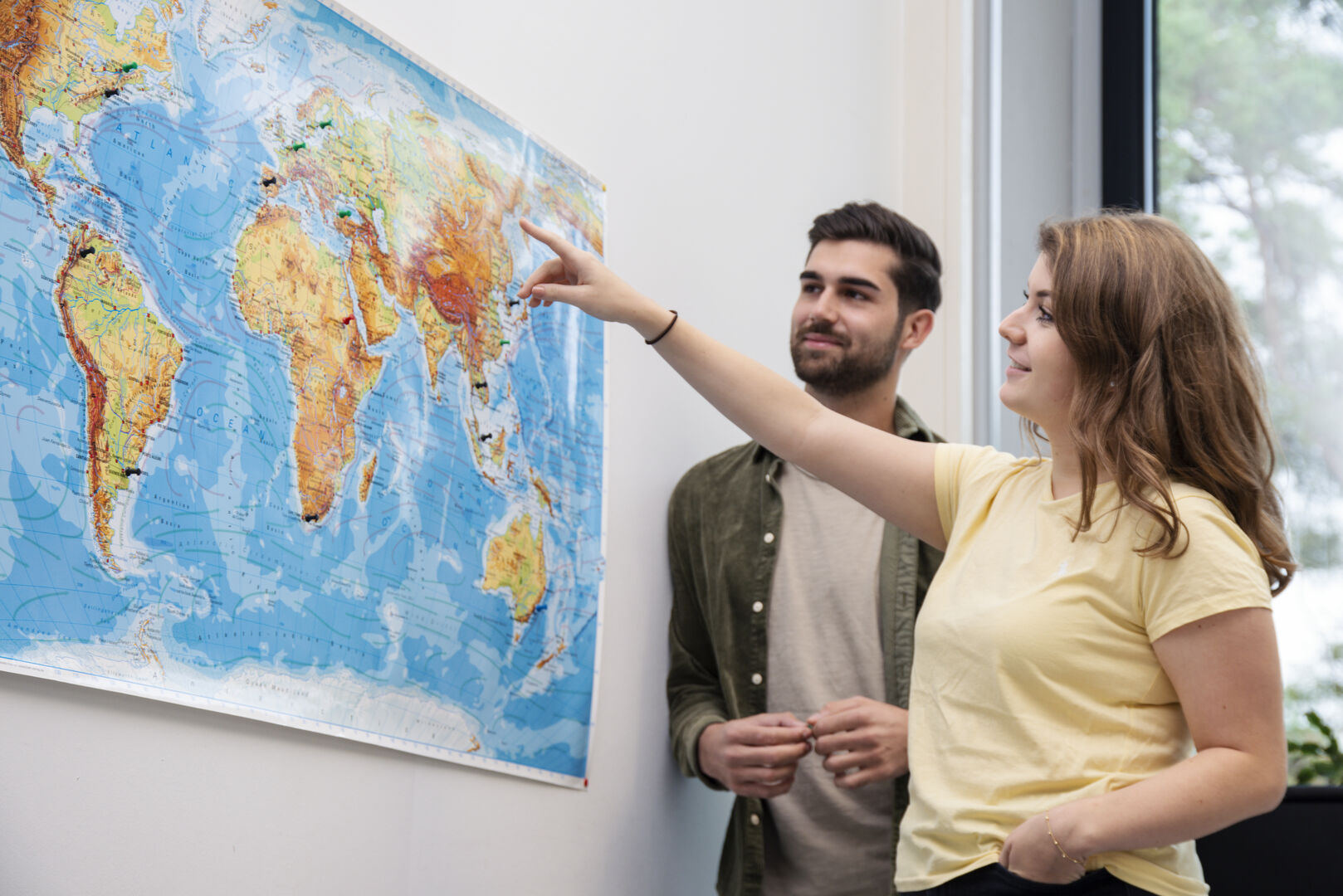 Certificate of International and Intercultural Competence (CIIC)
The daily study and work routine is increasingly determined by intercultural encounters, not least because of globalization. Over the past years, diversity has been identified as an important resource – thus intercultural as well as international competencies are becoming more and more important in this context.
The Certificate of International and Intercultural Competence (CIIC) was developed in order to acknowledge the international and intercultural profile of the students and it intends to accredit these competencies – e.g. for job applications. The CIIC is an extracurricular certificate that can be acquired by students at Karlsruhe University of Applied Sciences (HKA). It is also an integral part of the BA.International study program.
The CIIC certifies the intercultural and foreign language skills acquired by students during their period of study, attests study-related experiences abroad as well as participation in international project collaboration, and furthermore lists the participants' intercultural involvement.
In addition, the CIIC offers students with intercultural interests the opportunity to network and exchange ideas at peer events. Expanding the range of courses in the field of interculturality is also a major goal of the Certificate of International and Intercultural Competence. The CIIC draws attention to international and intercultural happenings on campus and in Karlsruhe and creates a network between HKA and international/intercultural institutions and companies.
The Certificate of International and Intercultural Competence consists of four modules. Three completed modules are necessary in order to acquire the CIIC. It is therefore possible to gain international and intercultural experience without a stay abroad and to obtain the certificate with the module combination 1+3+4. The certificate coordinator can inform you which achievements can be taken into account for the modules. In addition to the modules, participants must complete the course on intercultural competence from module 4 (3 Credit Points).
Practical experience is the best way to easily acquire intercultural competence. For this reason, the module "Intercultural Involvement" is particularly suitable for developing intercultural skills and is hence the adequate complement to the theoretical knowledge taught in the mandatory course on intercultural competence.
Examples for module 1:
A stay abroad is the classic way to get to know and experience new cultures. There are different formats of how a stay abroad can be organized. The Certificate of International and Intercultural Competence recognizes qualified (i.e. all study-related) stays abroad.
Examples for Module 2:
Study abroad
Internship abroad
Project work/final thesis written in another country
Research stay at a foreign university
Summer school or winter school abroad
Blended mobility
In a globalized world, foreign language skills form the basis for successful international cooperation. Within the "Foreign Language Competence" module, CIIC participants can improve their existing foreign language skills in a "world language" or, at best, expand their multilingualism and learn a new language. In this way, students are better prepared for stays abroad and the language acquisition also creates a solid basis for active engagement in an international and intercultural context.
Examples for module 3:
The module "Intercultural Competence" provides students with an insight into theoretical principles of culture and the current state of scientific knowledge concerning interculturality. This enables the participants to recognize, classify, and reflect upon the intercultural experience they have acquired in the practical modules of the certificate. Furthermore, it qualifies them to explain and apply their own intercultural competence.
The course "Intercultural Competence" is the core of module 4 as well as of the entire certificate. It is mandatory for all CIIC participants to attend this course, even for those participants who choose not to take part in the module "Intercultural Competence". Other courses such as lectures, seminars and workshops complement the module. The CIIC newsletter will regularly present suitable events that can be accredited for this module.
Examples for Module 4:
Course "Intercultural Competence" (compulsory course)
Courses offered by the "Studium Generale"
Courses offered by the "International Program"
"Hands on Learning!" modules (licenses can be acquired via "KOOR – Erasmus Services BW")
Online offers from other universities with interculturality as a focus (with certificate of completion)
Acquisition of intercultural virtual competence in the context of virtual collaboration in international projects

Would you like to find out what opportunities there are for intercultural involvement in Karlsruhe and the surrounding area? Are you interested in getting to know other CIIC participants? Would you like to participate in events on intercultural topics?
The CIIC newsletter informs you about international and intercultural events on campus and beyond every six weeks. Become part of the CIIC community!
I have already completed academic training and/or have been involved in an intercultural project that meets the requirements for the CIIC modules prior to registration. Will these efforts be considered for the certificate?
The CIIC certifies all achievements earned during the course of study – provided they can be accredited as part of the modules. This means that involvements, stays abroad or confirmations of participation can also be recognized retroactively.
I cannot complete a stay abroad. Can I still obtain the CIIC?
The CIIC can also be acquired without a stay abroad, as only three of four modules need to be completed. The combination of modules 1+3+4 offers the possibility to gain international and intercultural experience even without a stay abroad. There is furthermore the option of virtual mobility which also does not require travel abroad.
The foreign language I would like to learn is not offered at Karlsruhe University of Applied Sciences.
Language courses from other institutions can be also recognized for the CIIC.
How do I know if my involvement can be recognized for the CIIC?
The module on "Intercultural Involvement" in particular is highly individualized. The decisive factors for recognition are the amount of hours of involvement as well as the activities themselves. If you have any questions, please contact the certificate coordinator.
What happens if a course that I have passed has already been accredited for my studies/another certificate?
As long as the course meets the module requirements, it can be taken into account for the CIIC even if it has already been accredited in another context.
Can I take the course on intercultural competence without participating in the CIIC?
Participation is possible if places are available and not taken up by CIIC participants. Please check with the certificate coordinator whether you can join the chosen course.
Can I get credit for (external) online courses?
Due to the pandemic, many events are currently offered online and are therefore available to an expanded audience. If you (want to) participate in courses that are offered externally and which fit into the CIIC thematically, the accrediting is generally possible.
Can a long vacation which I have taken during my studies be accredited as a stay abroad?
Vacation trips are not qualified stays abroad and are therefore not recognized for the CIIC.
Can the modules be completed exclusively online?
Ideally, students should participate in face-to-face courses (especially for the module "Intercultural Involvement"). However, some module components can be completed exclusively in virtual or in hybrid form. We reserve the right to make changes concerning the recognition of credits due to the pandemic. Please contact the certificate coordinator in case you have a particular question.