Exploring mobility in and around Karlsruhe
At an international workshop with German and Colombian students, the Karlsruhe transportation system was on the agenda. Participants exchanged ideas for improving mobility in the inner-city area, especially for cyclists and pedestrians.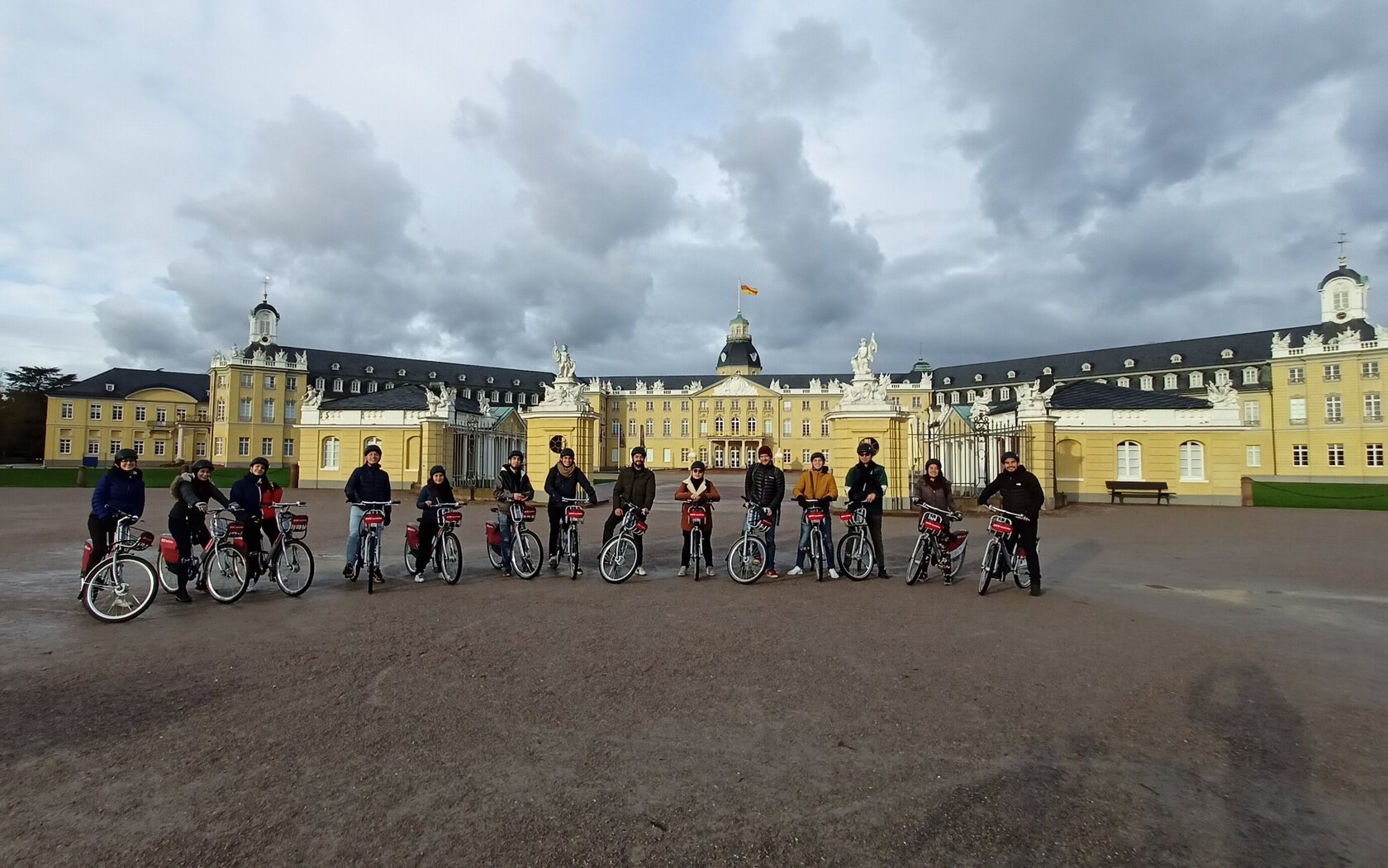 Daniel Hernando Niño Diaz
Colombian students exploring Karlsruhe's transportation systems with students from HKA at various locations in the city
Between December 1 and 13, 2021, 14 students from Bogotá, Colombia, visited Karlsruhe as part of an academic exchange program. The workshop was sponsored by the German Academic Exchange Service (DAAD), the International Office and the Transportation Managementdegree program at HKA. The students belong to the group "Transportation, Planning, and Design" (TPD) of the Universidad Distrital Francisco José de Caldas in Bogotá, where they do research on the topic of sustainable urban development, working with special applications in the field of geodesy. Based on this knowledge, the TPD group visited the Transportation Management study program in order to learn about the development of sustainable transportation infrastructure here in Germany and to learn and try out the use of different ways to analyze human behavior at traffic intersections.
The exchange program took place primarily outdoors due to the Corona pandemic and included tours of the various transportation systems in the city and region of Karlsruhe. The faculty and staff of the program offered outdoor tours of the transportation infrastructure, especially for pedestrians and cyclists. Students were also introduced to the Karlsruhe model of public transportation and shared mobility systems. The speakers, including staff from the City of Karlsruhe's Planning Department, the Karlsruhe Public Transport Authority, and professors and staff from the fields of transport ecology and cycling, provided detailed knowledge and insights into the state and functioning of the transport infrastructure.
The Colombian students also presented their applied research activities in Colombia to the German students and then, together with our Bachelor and Master students, applied some of their knowledge in analyzing the design of intersection areas in Karlsruhe. In this way, the Karlsruhe students were also able to get to know a different perspective. Another aspect of the exchange in Karlsruhe was the comparison of the Karlsruhe transportation system before and after the opening of the underground light rail tunnel. They also learned about the current developments and planning of the transport system in Baden-Württemberg and the design of new, safe and efficient pedestrian zones in the city of Karlsruhe.
Our HKA students can look forward to further collaborations and exchanges with our new partners in Colombia, who will join our worldwide network of partner universities on the topic of "Hands-on Sustainable Mobility", which offers students various different opportunities for international exchange.