Due to the increasing importance of electromobility within the automotive industry, it is also crucial in research and teaching to take up the new technologies and develop application-oriented solutions. For this reason, an experimental vehicle in the form of an electric kart (e-kart) was developed and built as part of various student projects and theses at the Institute for Energy Efficient Mobility (IEEM) at Karlsruhe University of Applied Sciences (HKA), which serves as a platform for various new intelligent vehicle functions.
Study2Smart E enables developed vehicle functions to be implemented on real control units and tested in road trials
The e-kart was built on the basis of a conventional combustion engine kart by first replacing the conventional drive train with an electric one. In addition to two electric motors (permanently excited synchronous machines) with a nominal power of 2.2 kW each, suitable power electronics and a battery management system (BMS) are also used. The required energy is provided by 16 modular lithium-iron-manganese-phosphate cells (LiFeMnPo4), which have a total capacity of 60 Ah and supply an on-board voltage of 48 V. The drivetrain is powered by a high-performance battery.
The drive train is controlled by means of a powerful development control unit from the automotive industry. This central control unit (CCU) also serves as a gateway for the on-board communication, which consists of various CAN buses.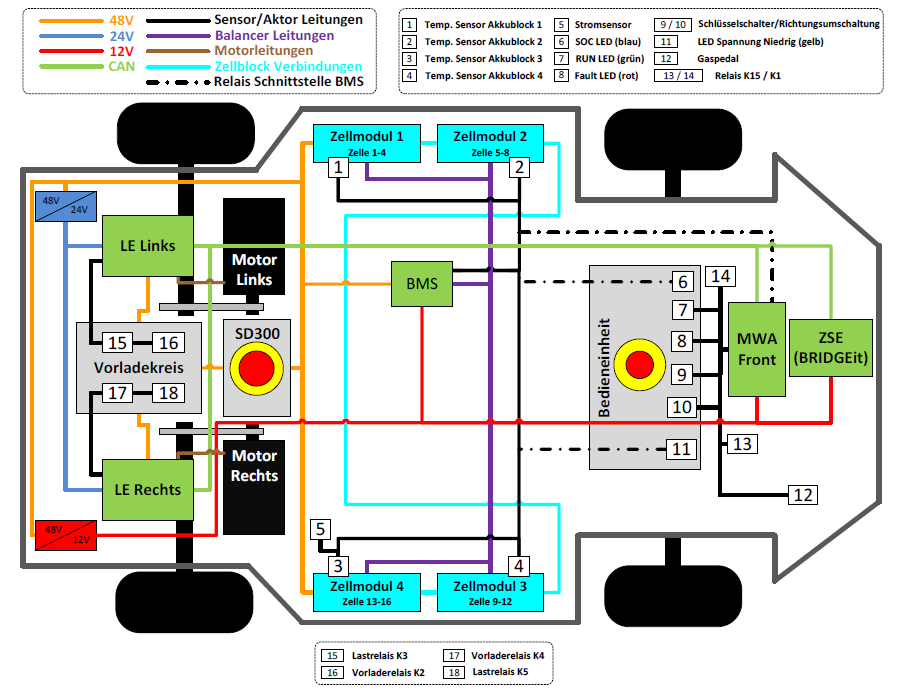 F. Bock
Development and commissioning of the electric drive train of an e-karts, Bachelor's thesis, Karlsruhe University of Applied Sciences, F. Bock, 2014
Das E-Kart verfügt außerdem über verschiedene implementierte Fahrerassistenzfunktionen wie z.B. eine Antriebsschlupfregelung (ASR) oder ein Antiblockiersystem (ABS). Darüber hinaus wurde eine Kommunikationsstelle zur "Außenwelt" in Form einer WLAN/Mobilfunkverbindung integriert mit dieser per Smartphone oder PC aktuelle Sensordaten des E-Karts überwacht werden können.
Diese Schnittstelle bietet zudem die Basis für zukünftig geplante Arbeiten. So soll z.B. das E-Kart auch autonom (ohne Fahrer) über das Smartphone fernsteuerbar sein.
Diese Funktionalität soll wiederum über studentische Projekt- und Abschlussarbeiten umsetzt werden, indem dem neben den erforderlichen Algorithmen auch die notwendigen Sensoren wie z.B. Kameras oder LIDAR integriert werden. Zudem wird eine passende App für Android/iOS entwickelt.
Post >
Institute of Energy Efficient Mobility (IEEM)
Postfach 2440
76012 Karlsruhe