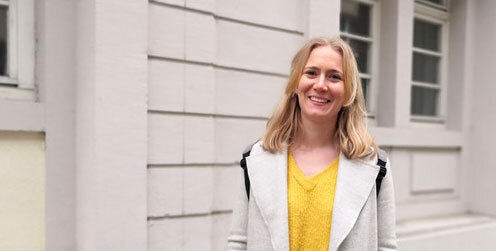 Interview with Annabel Teufel
Annabel Teufel, 2020 Master's degree in Business Information Systems, Consultant
Why did you choose Karlsruhe University of Applied Sciences?
Since I'm from Offenburg, it made sense to study in Karlsruhe because some of my friends were also in the area. In the end, I was won over by the university's concept itself, because I like the size, which makes life on campus more familiar than at a large university. In addition, the Karlsruhe University of Applied Sciences places a lot of emphasis on practical relevance, which I considered important because it allowed me to gain experience for my career during my studies. This results in the internship semester for one thing, and another effect is the fact that the university encourages final theses to be written in companies.
What do you like most about the campus?
To me, the location of the university has always been unsurpassed. No matter which route you're taking, you can get to the campus quickly, especially by bike, and you can reach nearly every tram line on foot. And for those who need a change from the student canteen, there is always something to be found within easy walking distance. There are quite a few places to enjoy your breaks outside in good weather - I hope this will be expanded some more.
Which activities outside the studies did you make use of?
I enjoyed the sports activities offered in cooperation with KIT. For the popular sports, you have to be quick to get a place but it's worth it. All the (recreational) events at the university were my favorites. When I was a new student the AStA used to organize cinema events, which were really cool. And the parties in the building A of the university at the start and end of a semester are probably a highlight for every student.
How did you come to study the Master's program in Business Information Systems?
At first I first worked for two years after completing my Bachelor's degree in International Management. At that time I came into contact with software development and wanted to consolidate the practical knowledge by learning. The mix of business administration and computer science offered in the Business Information Systems program was tailor-made for this. I found out via their website that Karlsruhe University of Applied Sciences offers this.
How did you settle on Karlsruhe University of Applied Sciences for studies?
The Master's program in Business Information Systems at Karlsruhe University of Applied Sciences was an obvious choice because I had already obtained my Bachelor's degree in International Management there. I also looked at the module handbook and found many of the topics super exciting. One considerable bonus point was the fact that you had a choice of subjects - which was great for me because I was able to swap some of the business subjects I was already familiar with for technical ones.
What about the program appeals to you most?
I particularly liked the exceptionally good and personal contact with the professors in this master's program. The atmosphere in the lectures was always great, which was also due to the comparatively small number of students. It felt easier to exchange ideas directly with fellow students and professors. This definitely made you feel that the Faculty cares about what their students think about the program.
Which advice would you like to give to prospective students?
Many of the students are familiar with the professors' advice telling you that you should join study groups. And I cannot but confirm this. With my study group, every seemingly endless exam period (especially when it's 40 degrees outside and you have to sit in the library) was somehow fun in the end. Apart from the fact that together, you can work through the material better, the social aspect is even more important. In a group, someone always has a little motivation left for the others, or a bar of chocolate in their backpack.