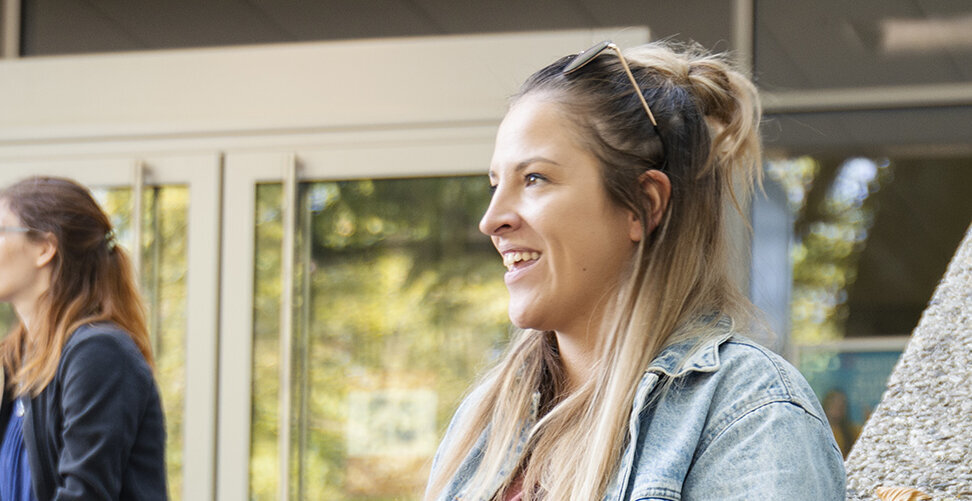 Interview with Zoe Kammerdiener
Zoe Kammerdiener is currently studying in the 6th semester of the bachelor's in International IT Business
Why did you decide to study this program?
After graduating from a technical high school with a syllabus in information technology, I definitely wanted to continue in that direction. However, at the study information day, my interest in business information systems was roused. I found the mixture of computer science, economics, and everything with an international aspect, very exciting, especially in this day and age where everything is interlinked. The program is unique and sets itself apart from "normal" business informatics programs.
What fascinates you most about the program?
I am fascinated by the cooperation among the fellow students, which is enhanced by various projects.
What are your "highlights" so far?
My highlights so far have been the application project, but also university life with all the events that go with it. Another highlight would have been my semester abroad in Glasgow, which unfortunately had to be cancelled due to the pandemic.
You started your studies in March 2018, what are your impressions so far?
At the beginning I was very confused about all the things you have to pay attention to in connection with exams, prerequisites, etc. By now I have a good overview and have acquired the relevant knowledge. Before, the contact with students from higher semesters, which I was able to establish through the Student Council, helped me a lot. In the meantime, I try to pass on my knowledge to students from lower semesters.
In your opinion, what is the biggest difference to school?
That you have to take responsibility for your actions: you get support but you have to actively take care of things yourself. And that there is no fixed timetable. To a certain extent, you can organize your main studies individually.
What do you like most about the campus?
Life on campus in the summer, when you can sit in the sun with fellow students on campus and eat lunch together. Or meeting outside on the stones to soak up the sun while having a cold refreshing drink from the cafeteria. In the winter, my favorite place is the Student Council room, where you can grab a coffee or tea before heading to your first lecture and play a few rounds of foosball during your lunch break.
Do you already have plans where you would like to spend your semester abroad?
I would have gone to Scotland, Glasgow, if the pandemic hadn't put a stop to this. Otherwise, I would have been very interested in Mexico, as I have only heard positive things from students there.
You are currently in your internship semester, how did you get connected with the company?
I knew about EXXETA AG through the Student Council. I had only heard positive things from fellow students who had worked there. I went on to be part of the methods consulting team there.
What exactly is your task there and what does it benefit you in terms of your studies?
In general, my main field of work was in method consulting (Scrum, requirements engineering). Here I prepared and conducted various workshops and was instrumental in converting method training courses to an online concept. Through this diverse field of work I had many points of contact with lectures such as modeling, planning of information systems and user centered design.
Do you already have plans and goals for the future?
After my bachelor's degree, I will start working, probably as a consultant in the company where I am a working student, have completed my internship semester and will also write my thesis.
Would you like to work in a particular industry later on?
I would like to stay in the consulting field for now. I think that the field of Business Information Systems is particularly well covered there, because both the technical as well as the economic and methodological aspects are covered. In addition, diverse areas are treated, so that I can gain detailed insight into industries such as automotive, energy and finance.
Which advice would you like to give to prospective students?
Keep your eye on the ball! Enjoy your student life, make friends. Friendships and good relationships with your fellow students will make your studies much easier and more fun. Be active, dare to be active. Get involved - there are so many ways to represent your interests at the university, be it in the Student Council, in the AStA or in various university groups.