Student of Karlsruhe University of Applied Sciences wins 1st prize of the Prix Bartholdi for his outstanding internship abroad report
Promotion of cross-border education in the Upper Rhine region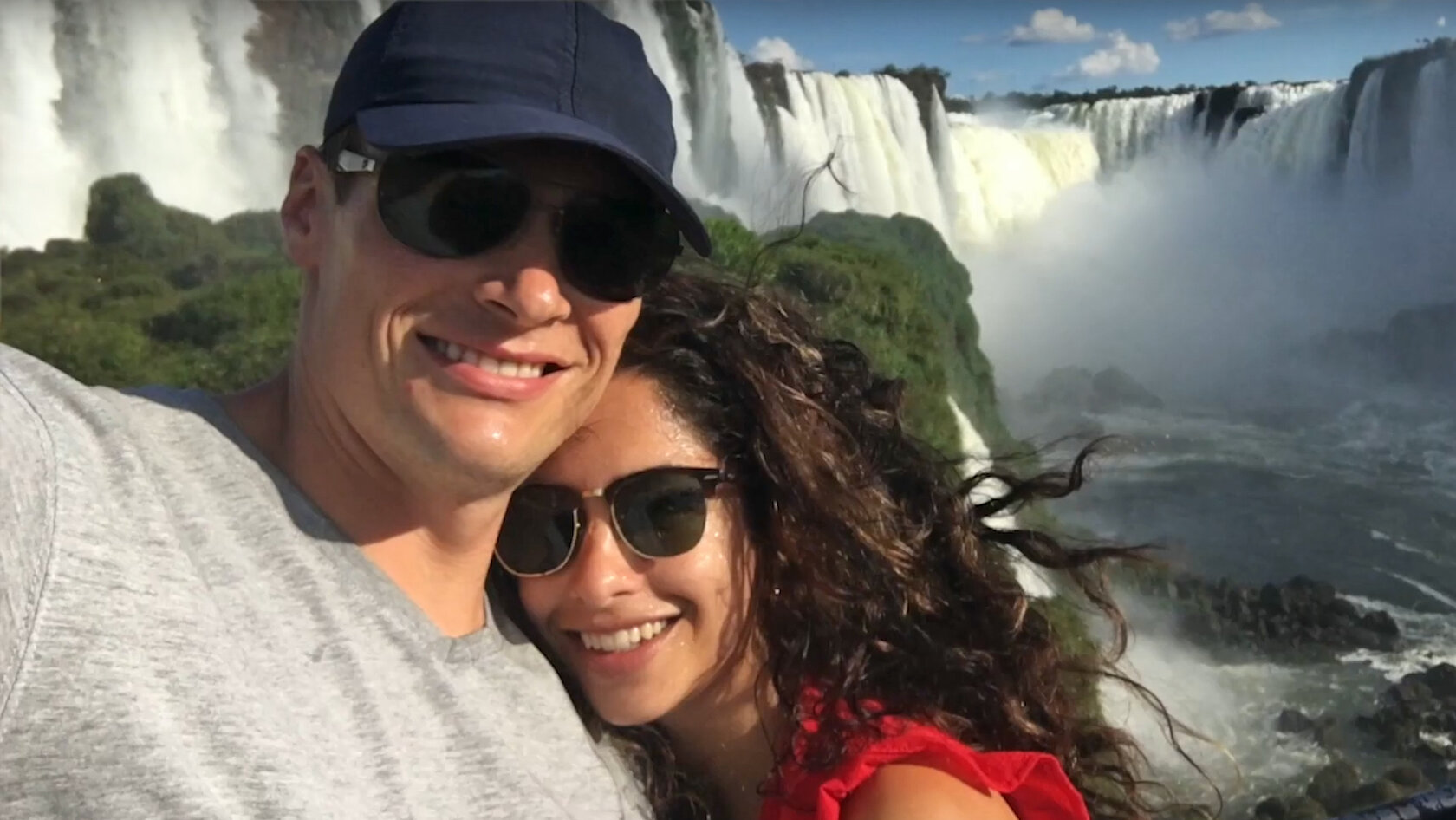 Philipp Zinder
Getting to know the country and its people during the semester abroad: Philipp Zinder with his wife Cindy in front of the Iguaçu Falls.
February 17, 2021
Each year Prix Bartholdi conducts a tri-national competition for Business Management and Economics students from the Upper Rhine region who completed an internship abroad as part of their studies. Besides academic excellence the prize winners need to demonstrate very good language skills as well as intercultural competence, which is of particular importance to the Upper Rhine Metropolitan Region.
Philipp Zinder has been studying for a Bachelor's degree in Business Administration and Engineering at HKA since 2016. Supported by the German-Argentine University Center dahz-cuaa he was able not only to spend a year studying in Argentina via the I.DEAR scholarship program within the double degree program "Industrial Engineering/Ingeniería Industrial" between HsKA and the Argentinian Universidad Nacional del Litoral (UNL) in Santa Fe, but subsequently he could also conduct his internship semester at Philips in Blumenau, Brazil, in the winter semester 2019/20.
As a multinational company headquartered in Amsterdam, Philips is still known for its electrical appliances, but also develops software solutions, for instance for the healthcare market. In Blumenau, this is the information system "TASY", which connects clinical and administrative processes in a hospital. Right from the start, Philipp Zinder was assigned to project management. His main task was to support the senior project manager in the introduction of TASY in a Cologne hospital, i.e. in the transcontinental coordination of the project.
The success of this international coordination is crucial for the future direction of the company, as it could open doors on the global market. During his internship Philipp Zinder made good use of his extensive language skills, as in addition to his native languages German and Russian he also speaks English, French, Spanish and now Portuguese very well. "During this internship, I also benefited greatly from my ten years of experience in the German Armed Forces," says Philipp Zinder, "especially from my leadership experience, including as a Project Management Officer at Eurocorps in Strasbourg."
Through the internship in Brazil, he was able to learn a great deal about the country, its culture and also its people. "I will never forget how friendly and openly I was received there," Philipp Zinder emphasizes.
For his excellent internship report he was awarded the 1st prize of the Prix Bartholdi on Friday, February 12, 2021, which came with a € 3,000 award. Due to Corona, the award ceremony took place for the first time in an online event.
"We try to prepare our students for the global job market in the best possible way," says Prof. Dr. Angelika Altmann-Dieses, Vice-President for Academic and International Affairs at Karlsruhe University of Applied Sciences and supervisor of Philipp Zinder at the Faculty of Management Science and Engineering. "Such stays abroad offer our students perhaps once-in-a-lifetime opportunities for such experiences, and we are glad that we can comprehensively prepare them for them during their studies with many programs and additional offerings." But in Philipp Zinder's case, there is a special joy: He came to Germany as a child from Russia and did not have a high school diploma. "In the student advisory service, I had encouraged him to first catch up on his technical high school diploma," recalls Prof. Dr. Angelika Altmann-Dieses, "I don't know of any student without a high school diploma who, even if he had received a place to study through special arrangements, had managed to complete the basic studies in Business Administration and Engineering. At that time, I had recommended numerous math books to him for preparation, since he was completely lacking in essential parts of the upper-level mathematics material, such as vector and matrix calculations. At that time, Mr. Zinder held out his hand to me as a farewell with the words: 'I will be the first!' I replied: 'Young man, the bet is on!'" And he has now won the bet in an impressive manner. "I've rarely seen a student," his supervisor said today, "who is so consistent in pursuing his goals." On Wednesday, he proudly told her that he has now accepted a job offer in IT consulting for NATO and the UN.
The award ceremony for Philipp Zinder can be viewed in the video for this year's Prix Bartholdi award starting at min. 27.58 at www.youtube.com/watch?v=20MyQZzmL3w&feature=youtu.be.
The Prix Bartholdi was first awarded in 2001 in the town of Colmar. It is named after the Colmar-born sculptor Frédéric Auguste Bartholdi (1834–1904), whose most famous work is the Statue of Liberty in New York. Prix Bartholdi is the only prize in higher education that is awarded across the borders of the German-French-Swiss Upper Rhine region. It is the aim of the Prix Bartholdi to promote and support the internationalization of higher as well as professional education and thus the competitiveness and attractiveness of the Upper Rhine region as a location for science and business, while at the same time promoting cooperation between its higher education institutions.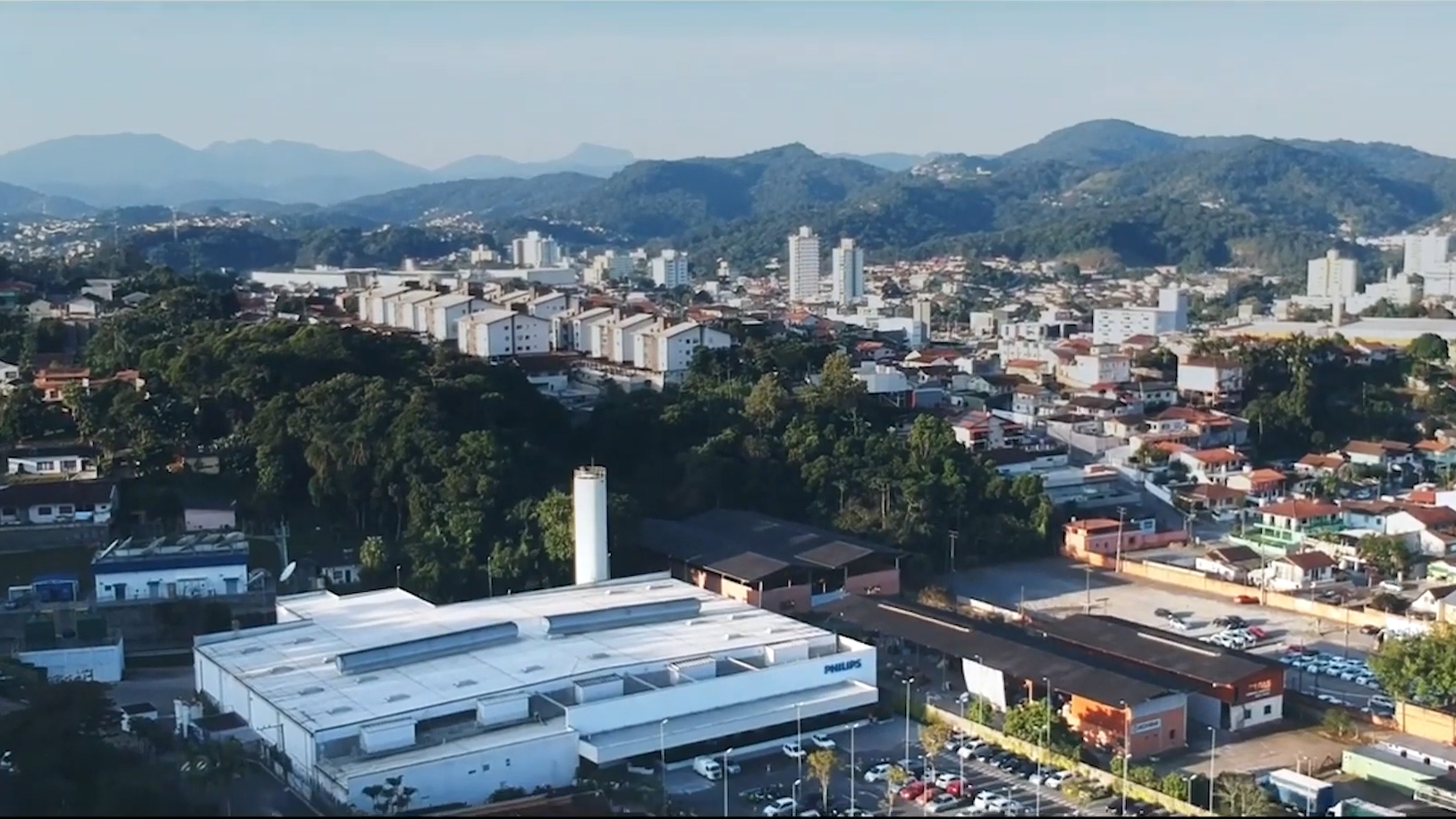 Philipp Zinder
View of the Brazilian town of Blumenau with the Philips plant in the foreground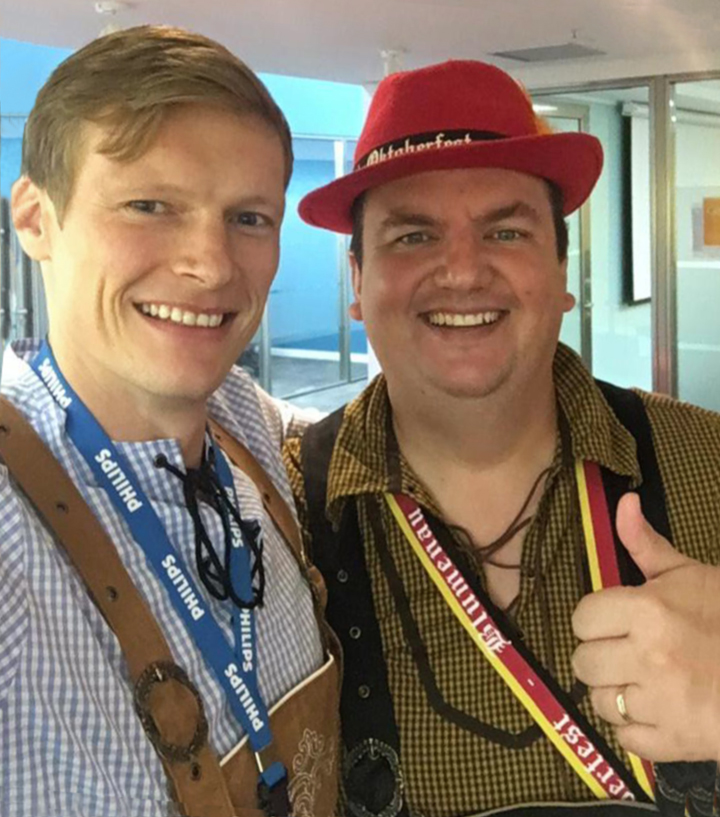 Philipp Zinder
Philipp Zinder (l.) visits the Oktoberfest in Blumenau with a Philips colleague. The city was founded by Germans and its Oktoberfest is considered the second largest in the world.