CHE University Ranking 2021/22: Karlsruhe University of Applied Sciences in the top groups with its Computer Science programs
Consistently top results for HKA study programs
May 4, 2021
Once a year, the national CHE University Ranking re-evaluates one third of all study programs at German universities. This year, Karlsruhe University of Applied Sciences was represented with its degree programs in Computer Science and was able to achieve placements in the top group several times.
In the verdict of computer science students, HKA achieved top placements for the study organization and for its facilities. The university also offers very good support at the beginning of studies as well as very good links with professional practice in the undergraduate courses of study, and it also allows students to graduate in a reasonable period of time – in total, therefore, five placements in a top group and thus a top result for the computer science courses offered by HKA.
If one adds to the results of the current ranking those for other HKA study programs from previous years (2020 and 2019), it becomes clear that it is one of the top institutions nationwide. In 2020, the programs for Business Information Systems and Business Administration and Engineering had each achieved a place in the top group in an impressive four categories. In 2019, the university had achieved top results for six other degree programs Architecture, Civil Engineering, Electrical Engineering and Information Technology, Automotive Engineering, Mechatronics , and Mechanical Engineering.
Almost universally, HKA is being evaluated as having excellent links with professional practice, offering very good support at the beginning of studies, facilitating graduation in a reasonable period of time, and having a very pronounced international orientation.
"The results in this renowned university ranking," emphasizes HKA President, Prof. Dr. Frank Artinger, "confirm time and again the high quality of our study programs, which we achieve in particular by closely integrating teaching and applied research. This opens up the best career opportunities for our graduates worldwide. The results clearly underline the practical and international orientation of our study programs, both of which are central strategic goals in our educational approach."
With more than 300 universities surveyed and more than 120,000 students questioned, the CHE University Ranking is one of the most comprehensive and detailed rankings in the German-speaking world. In addition to facts about studies, teaching, facilities and research, it also takes into account students' assessments of the study conditions at their university. The new ZEIT Study Guide 2021/22 with the latest ranking results will be avaible from today, May 4, 2021, at newspaper stands and on Zeit Campus online.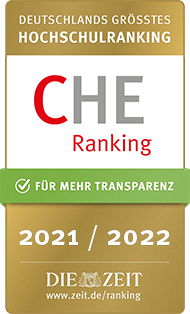 CHE