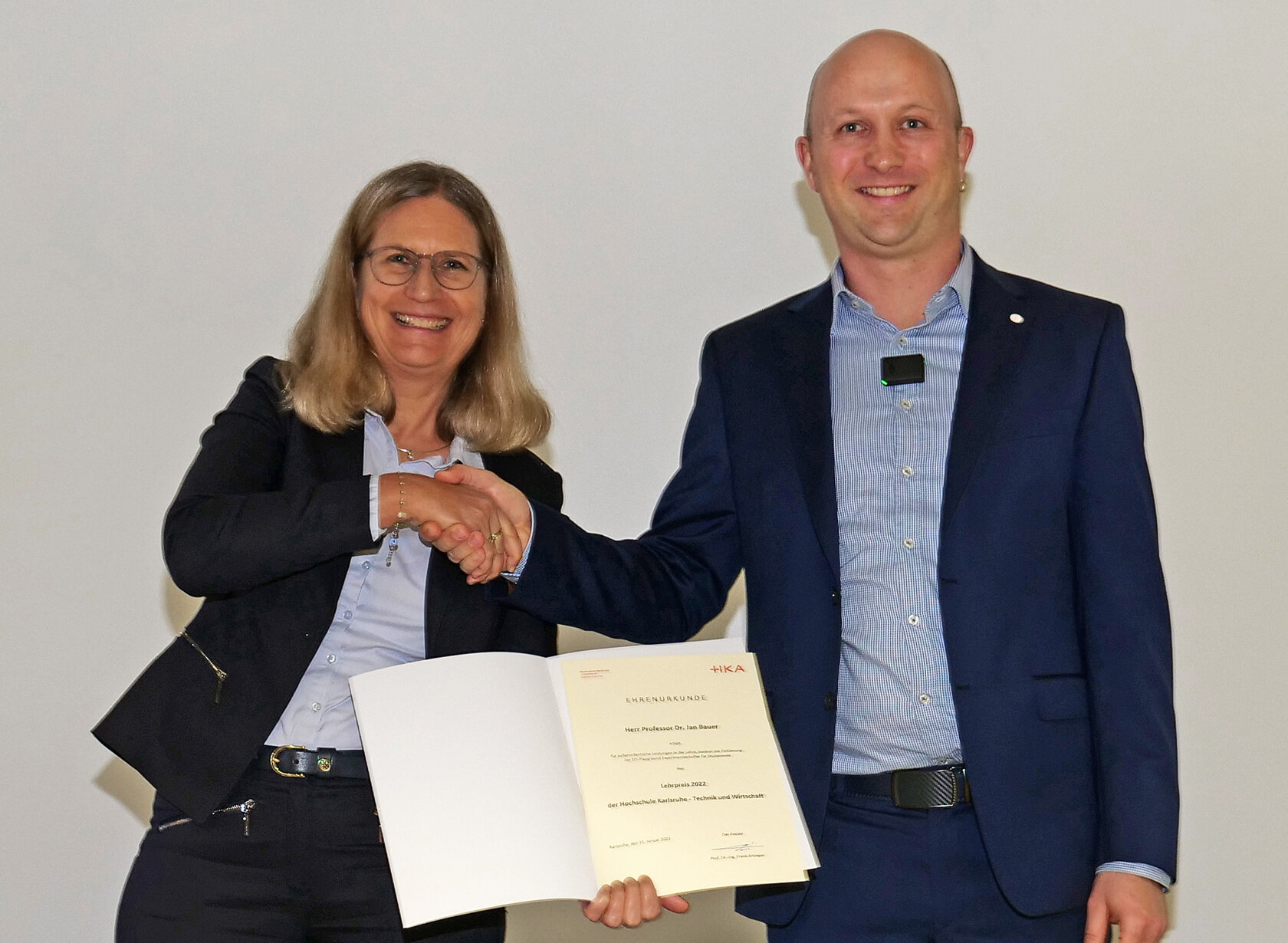 John Christ
Vice-President Prof. Dr. Angelika Altmann-Dieses presents the HKA Award for Teaching Excellence to Prof. Dr. Jan Bauer from the Faculty of Electrical Engineering & Information Technology during the New Year's Reception
January 12, 2023
Prof. Dr. Jan Bauer teaches and does research in the fields of image processing and neural networks at the Faculty of Electrical Engineering & Information Technology of Karlsruhe University of Applied Sciences (HKA). During yesterday's New Year's Reception, he was presented with the Award for Teaching Excellence of HKA, which is endowed with 5,000 Euros, for his innovative teaching and educational concept: developing the "EIT Playground".
The EIT Playground is a mobile experimental case equipped with all components needed for the basic laboratories of the first three semesters, such as plug-in boards, transistors, digital components, or potentiometers. This way, students can carry out the practical exercises at home, independently of the time-limited laboratory slots at HKA. In doing so, they solve the tasks at their own learning pace, try out experiments on their own and thus develop a deeper understanding of putting theory into practice.
"Especially at the start of their studies, some students find it difficult to deal with theory in electrical and information engineering," explains Prof. Dr. Jan Bauer. "Many topics are complex and build on each other. When changing from school to university, students also find it challenging to process the amount of things to learn. Add to this a lack of understanding of the interrelationships between the individual topics, it is often also difficult for students to stay motivated. Not to forget, students have very heterogeneous levels of knowledge at the beginning of their studies."
The "electronics toy box for home" is much welcomed by the students. "It's a great service by the University," enthuses Rithik Kumar, a second-semester student, "that you get the right components readily assembled in one box. If you start searching for a transistor on Google, for example, you get about 75 million results. This is quite unmanageable. With the box, on the contrary, I was able to start right away and get going."
"The most important thing at the start of your studies," as pointed out Prof. Dr. Angelika Altmann-Dieses, Vice-President for Academic and International Affairs, when presenting the Award for Teaching Excellence, "is to get dependable basic knowledge. With the EIT Playground, we can facilitate the transition from school to university, close gaps in knowledge due to heterogeneous approaches, and thus increase self-motivation for studies. We congratulate Prof. Dr. Jan Bauer on this great concept and thank him for his outstanding commitment in realizing it."
The EIT Playground, which is based on John Dewey's teaching concept of "Learning by Doing," is financed by sponsors and given to all bachelor students at the Faculty of Electrical Engineering & Information Technology in their first semester. More than 50 students have already been equipped in one semester with the support of the Friends of the Faculty, . The next 90 boxes will be financed by sponsors (Bürkert GmbH & Co KG, Schaeffler AG, SEW-Eurodrive GmbH & Co KG, TZ Electronic Systems GmbH and Vector Informatik GmbH) for the students.
Since 2011, the HKA's biennial Award for Teaching Excellence has been presented to professors who have made a special contribution to high-quality and innovative teaching.