Gold medal for optimized crane robot
HKA student Luc Doppler and two French fellow students win the national selection in France at the Worldskills competition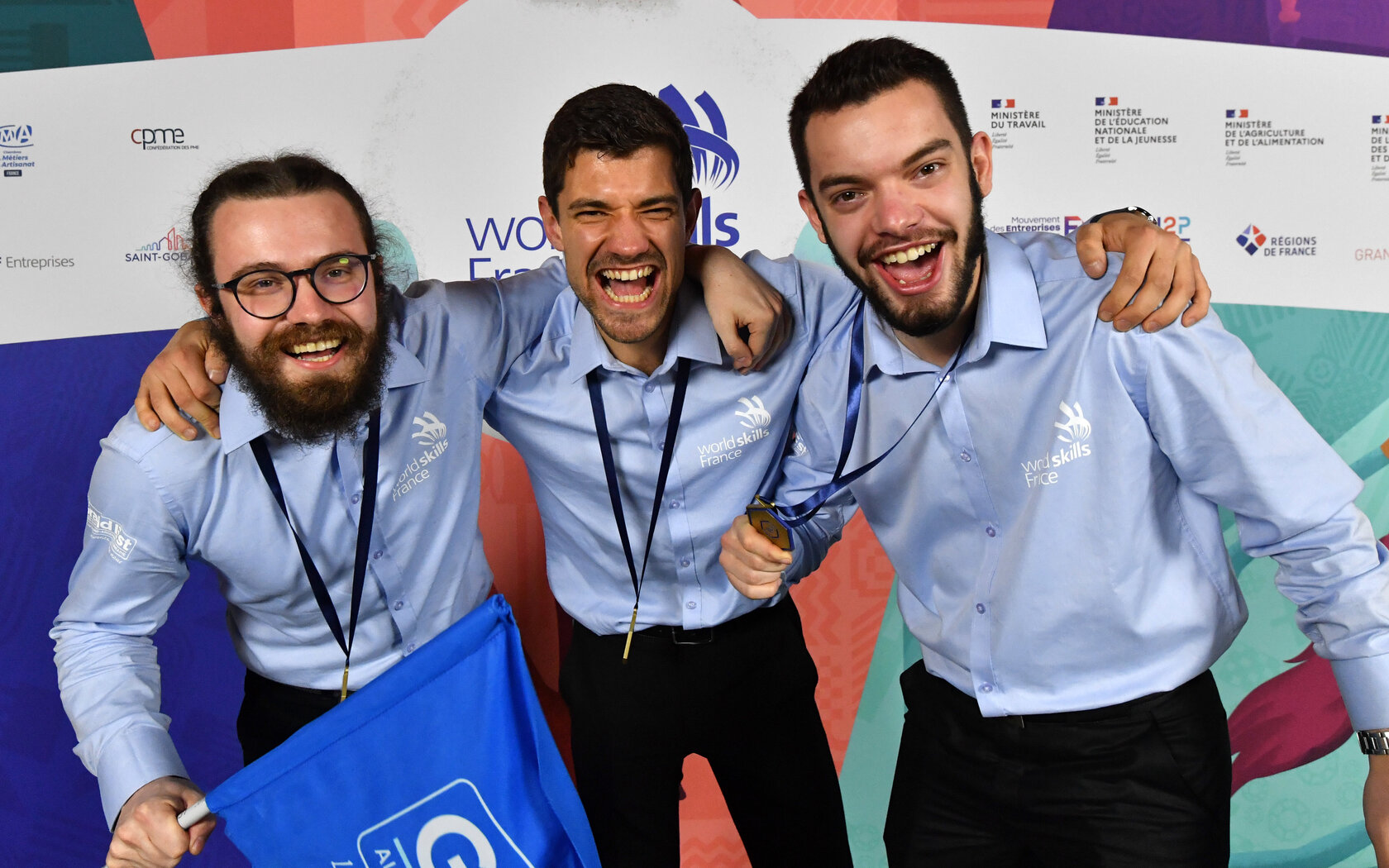 WorldSkillsFrance
And the winner is: Luc Doppler, Augustin Probst, Thierry Humbert (from left to right)
January 24, 2022
Together with two fellow students from Strasbourg and Metz, Luc Doppler, a student in the Master's program in Mechatronics at Karlsruhe University of Applied Sciences (HKA) and participant in the double-degree program with the Institut National des Sciences Appliquées (INSA) in Strasbourg, won the gold medal at the French national Worldskills competition in the discipline "Manufacturing Team Challenge" in Lyon in mid-January. With the victory, the group has qualified to represent France at the Worldskills competition in Shanghai in October 2022.
The goal of the competition was to build a prototype for a robot with a telescopic crane that can perform a series of specified activities in a limited time and with high accuracy. These included, for example, driving over a speed bump, climbing a ramp, negotiating a hole or recovering a 5 kg steel block from behind a 1-meter wall. The various evaluation criteria also included criteria for optimizing the prototype, such as low weight and low cost. The entire competition is thus intended to reflect the expectations of companies in the preliminary design phase of an industrial product.
For the competition, Luc Doppler developed, built and programmed the circuit board that controls the crane robot using motors, actuators and sensors as part of a development project with his supervisor Prof. Dr. Olivier Schecker, Professor of Microsystems Engineering at the Faculty of Mechanical Engineering and Mechatronics. The control system uses a human-machine interface consisting of a screen, joysticks and control buttons. It must be able to respond quickly and precisely enough to control the robot with the highest possible dexterity.
"Ultimately, the key to success was the group's approach and multiple iterations in building the circuit board, which led to an optimized design of the robot that thus worked significantly faster, more precisely and more cost-effectively than the robots of the other groups," says Prof. Dr. Olivier Schecker.
The students received a distinguished visit at the competition from French Prime Minister Jean Castex and Labor Minister Élisabeth Borne, who were interested in the design of the robot.
With the victory in Lyon, the group will participate in the international competition in Shanghai this year, where they will represent France. "The standards set for us are now much higher. We will do our best," comments Luc Doppler, who, in addition to his studies, assists other students with their project work as part of the project lab at the Faculty of Mechanical Engineering and Mechatronics.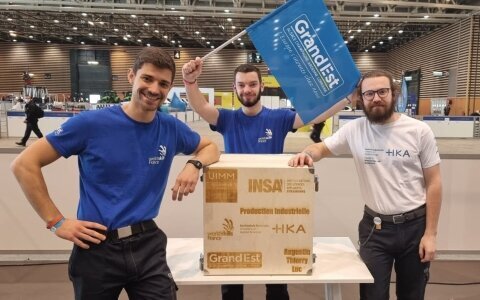 Aurélien Siat
Arriving at the competion site in Lyon (from left to right): Luc Doppler, Thierry Humbert, Augustin Probst
Aurélien Siat
French Prime Minister Jean Castex and French Minister of Labor Élisabeth Borne pay a visit to the team at the competition