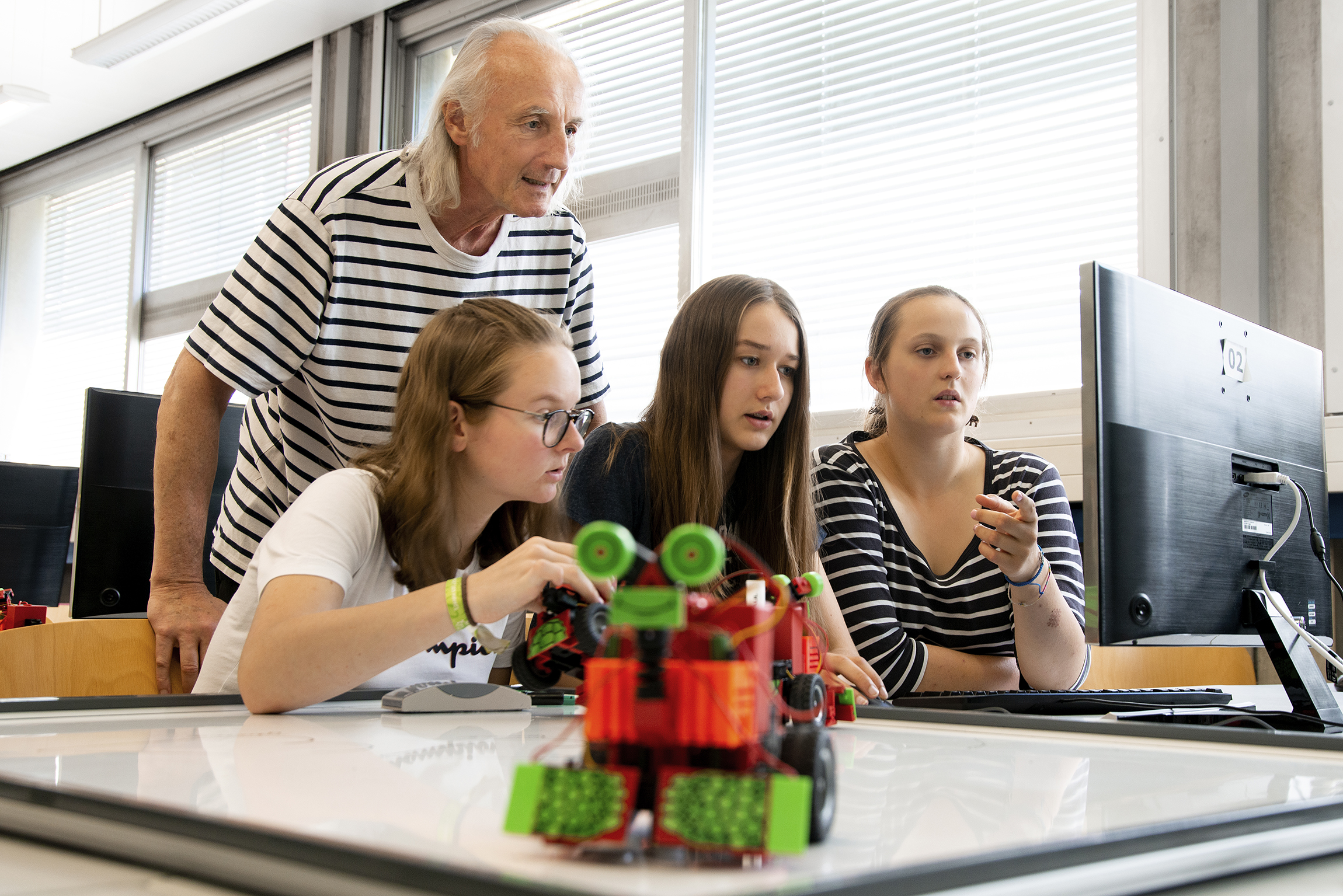 Schüler-Ingenieur-Akademie
SIA – collaborative knowledge sharing
The Student Engineering Academy (SIA) stands for a cooperation model between school, university and industry initiated by the Südwestmetall association. The SIA is aimed at interested high school students whose knowledge of STEM subjects is to be deepened through project work.
Goals
Promotion of scientifically interested and talented high school students
To convey the contents of the professional field of an engineer
Gaining experience of topics and working methods in the natural science field outside the school day
Contact with university lecturers and company managers
Process
The SIA lasts one school year (two semesters) and takes place every Friday afternoon (not during vacations).
Venues are the school, the college and the companies.
Participate in the Karlsruhe SIAs can students of the 11th Classes of the participating schools.
For admission to the academy, good academic performance is a prerequisite. Special technical knowledge is not required.
Supervised are the project work mainly by university professors and company specialists.
Teachers from the high schools accompany the young people throughout the training period and take over individual teaching units. They supervise and advise the SIA participants and assess their learning progress.
The students independently prepare a seminar paper on a freely chosen topic from technology and science in the last third of the course duration.
Contents
The contents are structured as modules, for each of which one of the organizers is responsible. No contents of the educational plan for general education high schools are taught.
In short theoretical lectures and especially in practical exercises interdisciplinary topics are dealt with from the areas
mechanical engineering,
mechatronics,
Electronics,
Sensor technology,
Information technology,
Business administration,
In seminars key skills are trained such as
Teambuilding,
Application training,
presentation technique,
professional documenting or
project management.
Company tours, plant tours, trade fair visits or outdoor seminars can be further offerings.
Successful SIAs in Karlsruhe
Two SIAs are offered in Karlsruhe: SIA I Karlsruhe, which has been in existence since 2003, and SIA II Karlsruhe, which was founded in 2007.
Partners of the SIA I Karlsruhe are:
Humboldt-Gymnasium Karlsruhe
St. Dominikus Mädchengymnasium Karlsruhe
Hochschule Karlsruhe
Siemens Karlsruhe
SEW-Eurodrive Bruchsal
Participating in the SIA II Karlsruhe are:
Gymnasium Karlsbad
Gymnasium Neureut
Hochschule Karlsruhe
Duale Hochschule Baden-Württemberg Karlsruhe
Karlsruher Institut für Technologie (KIT)
Siemens Karlsruhe
Harman Becker Automotive Systems GmbH
init innovation in traffic systems AG
Dr. Willmar Schwabe GmbH & Co. KG
Fa. Herrmann Ultraschall GmbH
Fa. VEDAG