Digitally networked international projects and laboratory experiments
With the research group Engine Technology and CHP (GenLab) at the Institute for Climate, Refrigeration and Environmental Engineering (IKKU) and the Institute for Energy Efficient Mobility (IEEM), international relationships exist that bring added value to the digitization of teaching. To globally connect and promote student learning and teaching at Karlsruhe University of Applied Sciences, the GenLab research group uses the innovative approach of active learning and networked collaborative work in conjunction with modern digital tools and services. This international collaboration between students and scientists is taking place as part of MYiTOPS, a project under the Baden-Württemberg-STIPENDIUM for Students - BWS plus, a program of the Baden-Württemberg Foundation. The three-year project supports a total of 36 students from both universities through scholarships and mobility funds, thus deepening the successful cooperation between Karlsruhe University of Applied Sciences and Universiti Malaysia Pahang (UMP) that has been built up over many years. The aim of the project is to conduct "International Team-Oriented Project Studies" (iTOPS) in German-Malaysian teams in the field of real-time controlled cyber-physical testing and laboratory functions in order to further expand the bridge between Germany and Malaysia. An interdisciplinary and modern development framework was created for the student projects.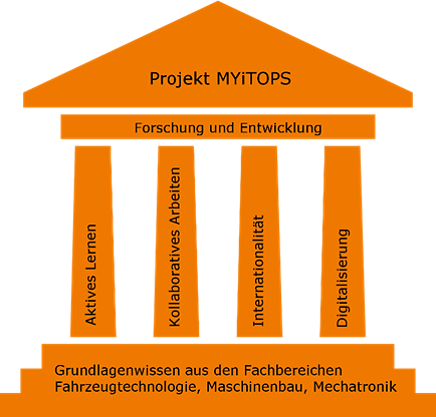 GenLab
The organizational and content structure of the MYiTOPS project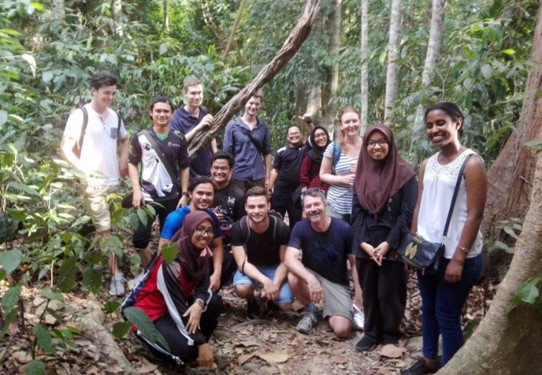 GenLab
2019 MYiTOPS participants
Current information about the project
Corona Pandemic and Physical Distancing? Initiative: lab@home! Despite the relaxation of Corona measures, it is highly unlikely that regular university operations will be possible this semester or next. Under the lab@home initiative, students are provided with lab equipment (e.g., 3D printers, single-board computers (Raspberry PI), and more) for sub-tasks so that they can perform hands-on work and gain experience in small groups from their homes or dorms.
12.2018 – 11.2020