Participants of the international EU research project SophiA support family of deceased African pioneer
Through a donation campaign, a total amount of 2,360 Euros will be handed over to the family of Prof. Noble Ephraim Banadda.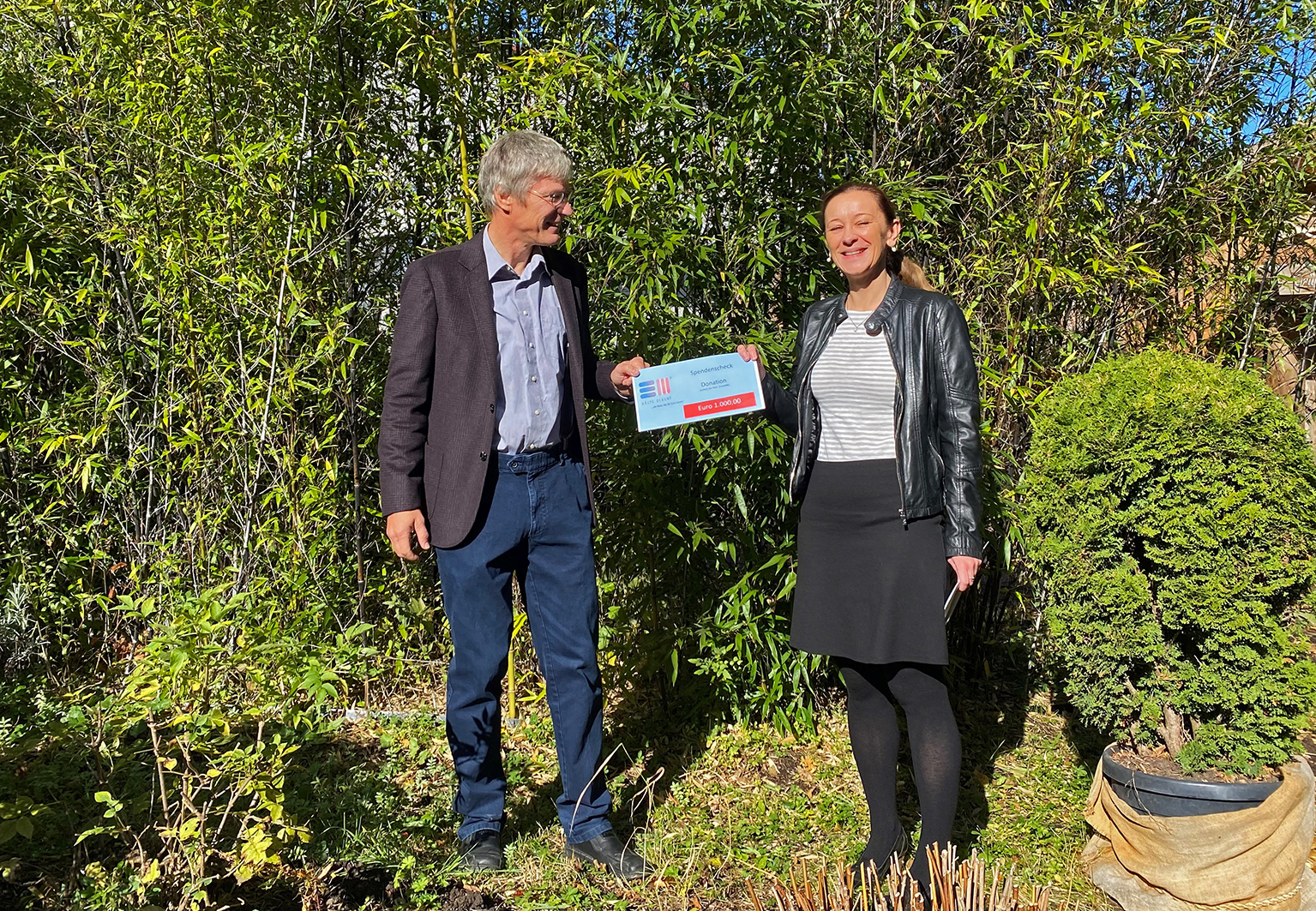 Michael Eckert
Silvia Schmid presents a 1000 Euro donation on behalf of the company Kälte Eckert GmbH to SophiA project manager Prof. Dr. habil. Michael Kauffeld for the family of Prof. Noble Banadda
November 2, 2021
"Although we are proud that we can actually start this international research project together today," said project leader Prof. Dr. habil. Michael Kauffeld at the kick-off meeting for SophiA at HKA in October 2021, "we also mourn the loss of Professor Noble Ephraim Banadda. A professor of biosystems development at the University of Makerere in Uganda, he was our first contact in Africa and one of the key promoters of SophiA, convincing experts in African ministries of health and various organizations to join the ambitious SophiA project. A man who lived up to his name and whose untimely death due to Covid-19 also additionally highlights the importance of SophiA."
SophiA is an international research project for the development of sustainable and energy-autonomous refrigerated container systems for African hospitals under the leadership of HKA. The project aims to improve the cooling infrastructure of hospitals and medical stations in remote African locations so that vaccines against Covid-19 can be stored appropriately, thus making them available to the people.
To show their solidarity and compassion for Noble Banadda's young family , all SophiA partners who were present or live streamed at the kickoff meeting at HKA spontaneously decided to collect donations and send them to his wife Dr. Beatrice Namaganda Banadda and their three children. A couple of weeks later, SophiA advisory board member Michael Eckert and his brother Holger Eckert, both shareholders of the company Kälte Eckert GmbH, added another 1,000 Euros, so that a total amount of 2,360 Euros will be handed over to the family.
Vector vaccines and protein-based vaccines, like many other drugs, require refrigeration of 2 to 8 °C. Vaccines with mRNA technology and some Ebola vaccines require much lower storage temperatures of up to -70 °C. SophiA systems will provide remote hospitals and health clinics with solar-powered cooling chambers for +5 °C, -30 °C and -70 °C. Storage of blood plasma at -30 °C will be facilitated, enabling remote African hospitals to better perform appropriate surgeries locally. In addition, SophiA will provide hospitals and health stations with clean drinking water and hot water/steam for various processes, including sterilization of medical equipment - also thanks to the solar-power solution in the form of photovoltaics and solar thermal energy.
This project has received funding from the European Union's Horizon 2020 research and innovation programme under grant agreement No 101036836.