Prof. Dr. Matthias Wölfel is awarded the Digitization Prize of the Association of Donors at Karlsruhe University of Applied Sciences
Fostering innovative ways in further digitization of research and teaching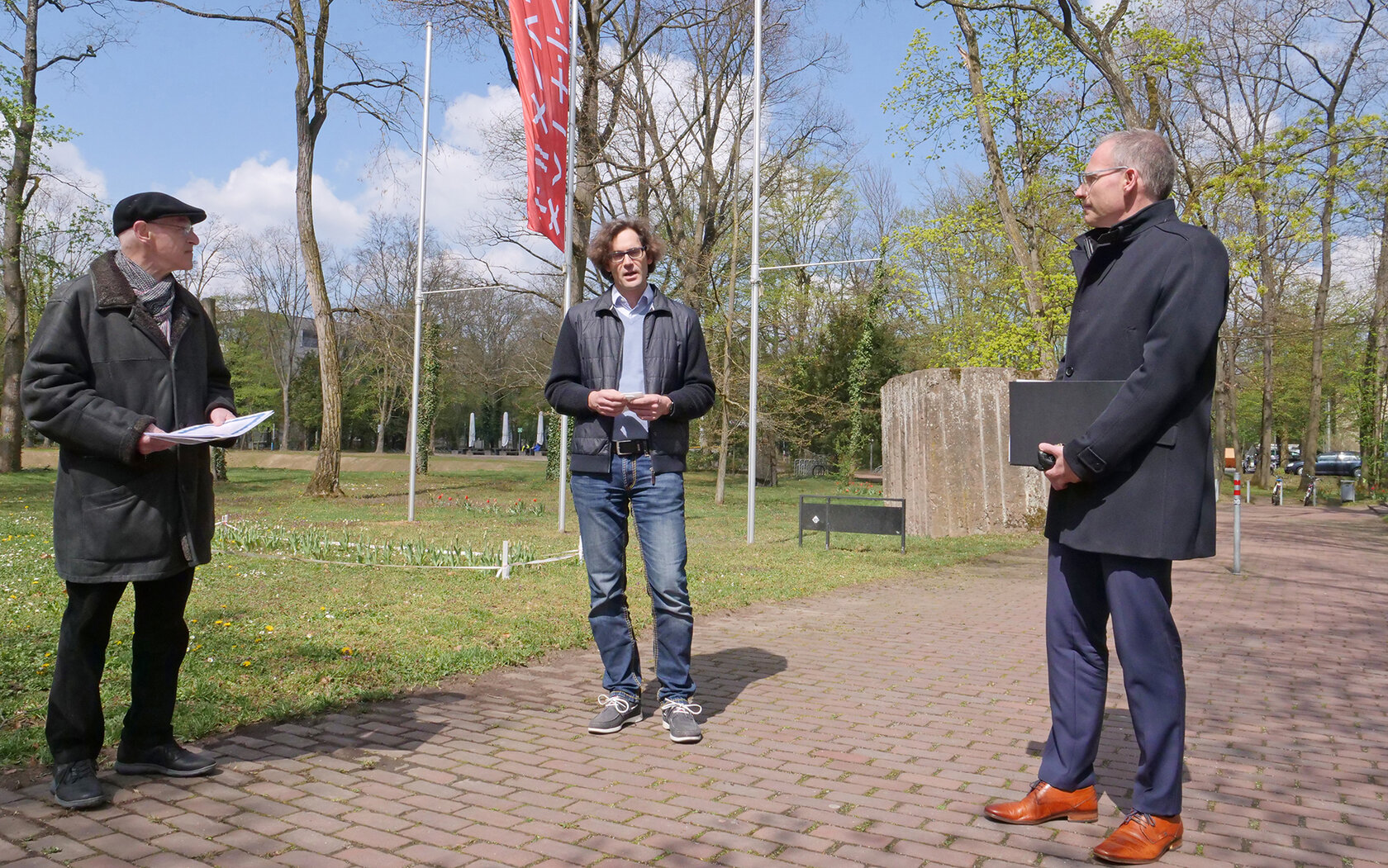 John Christ/HsKA
Prize winner Prof. Dr. Matthias Wölfel and the Chairman of the Donors' Association Prof. Werner Vogt (left) with the first well-wisher: Rector Prof. Dr. Frank Artinger (r.)
April 13, 2021
Today, Tuesday, April 13, 2021, Prof. Dr. Matthias Wölfel, Professor of Intuitive and Perceptive User Interfaces at the Faculty of Computer Science and Information Systems at Karlsruhe University of Applied Sciences and Associate Professor at the Faculty of Economics and Social Sciences at the University of Hohenheim, received the 5 000 euro Digitization Award from the Association of Donors at Karlsruhe University of Applied Sciences. "With this prize, which is being awarded for the first time, we would like to promote the further digitization of teaching and research at Karlsruhe University of Applied Sciences," said Prof. Werner Vogt, Chairman of the Association of Donors and the University's Board of Trustees at the award ceremony, which, due to corona conditions, took place at the entrance portal of the University, i.e. outdoors. The award is intended in particular to recognize new concepts, projects and technologies that have been implemented at the university to enable teaching and laboratory operations even under corona conditions. "Special attention is given here to Internet-based concepts," said Prof. Vogt, "which are future-oriented and transferable to other fields and disciplines."
Six jurors from academia and professional practice judged the competition entries and chose Prof. Dr. Matthias Wölfel's work "Digital pedagogical interlocutor" as the winner. This online format is characterized in particular by the fact that students can enter into a dialog with a voice assistance system at any time during the online lecture - something that is usually hardly possible in digital learning formats. The system answers questions about the lecture and provides further recommendations as well as hints.
In order to maintain teaching under "corona conditions," individual online concepts had been developed and implemented on the fly during the first wave of the pandemic. But these digital learning and teaching events hardly went beyond simple non-interactive formats. An exchange about the lecture content remained mostly limited to isolated individual queries. So wouldn't an interlocutor who is available at any time and individually be desirable?
This is precisely the vision of Prof. Dr. Matthias Wölfel's "Digital Pedagogical Interlocutor" project, which he launched three semesters ago and has been actively developing with students ever since. The goal here is to supplement common educational practice, which is often limited to classic lecture formats and the provision of documents, with an interactive component in natural language. Technologically, such systems are possible in principle, but it takes a lot of manual effort to design such systems and provide them with the right content. To compensate for this disadvantage, the "Digital Pedagogical Conversation Partner" automatically generates dialogs based on semantically annotated lecture slides. This allows learners to enter into a dialogue at any time with a language assistance system that answers questions about the lecture, provides recommendations and references, and even queries students on their own for content and checks their answers for semantic accuracy.
"I am extremely pleased to receive the Digitization Award from the Association of Donors," said Prof. Dr. Matthias Wölfel. "I would like to express my sincere thanks to all the students who supported me in the implementation of the project and also to the Verbund der Stifter. We will use the prize money to further develop the system and expand it to other courses."
"At the university, we were very pleased that we were able to quickly convert our courses to online formats during the first lockdown, thus giving the entire teaching process a digitalization boost," emphasized Rector Prof. Dr. Frank Artinger at the award ceremony. "We are certain that we will continue to benefit from this even after a return to face-to-face courses. We are therefore very grateful to the Association of Founders for providing further impetus with this prize to further develop the digitization of the university in research and teaching with innovative ideas and concepts."
The Association of Donors at Karlsruhe University of Applied Sciences was established in 2005 as a foundation under civil law and gives ambitious sponsors and donors the opportunity to support the university financially or through contributions in kind. In this way, the association supports projects in teaching, applied research and further education as well as particularly talented students in Germany and abroad. For this purpose, the capital proceeds of the foundation as well as donations are available for use in accordance with the foundation's objectives. The Foundation supports university institutes and laboratories in acquiring technical equipment, faculties in carrying out interdisciplinary work and student projects that increase the visibility and attractiveness of the university. Within the last 15 years, total funding for the university has amounted to about 1.5 million euros.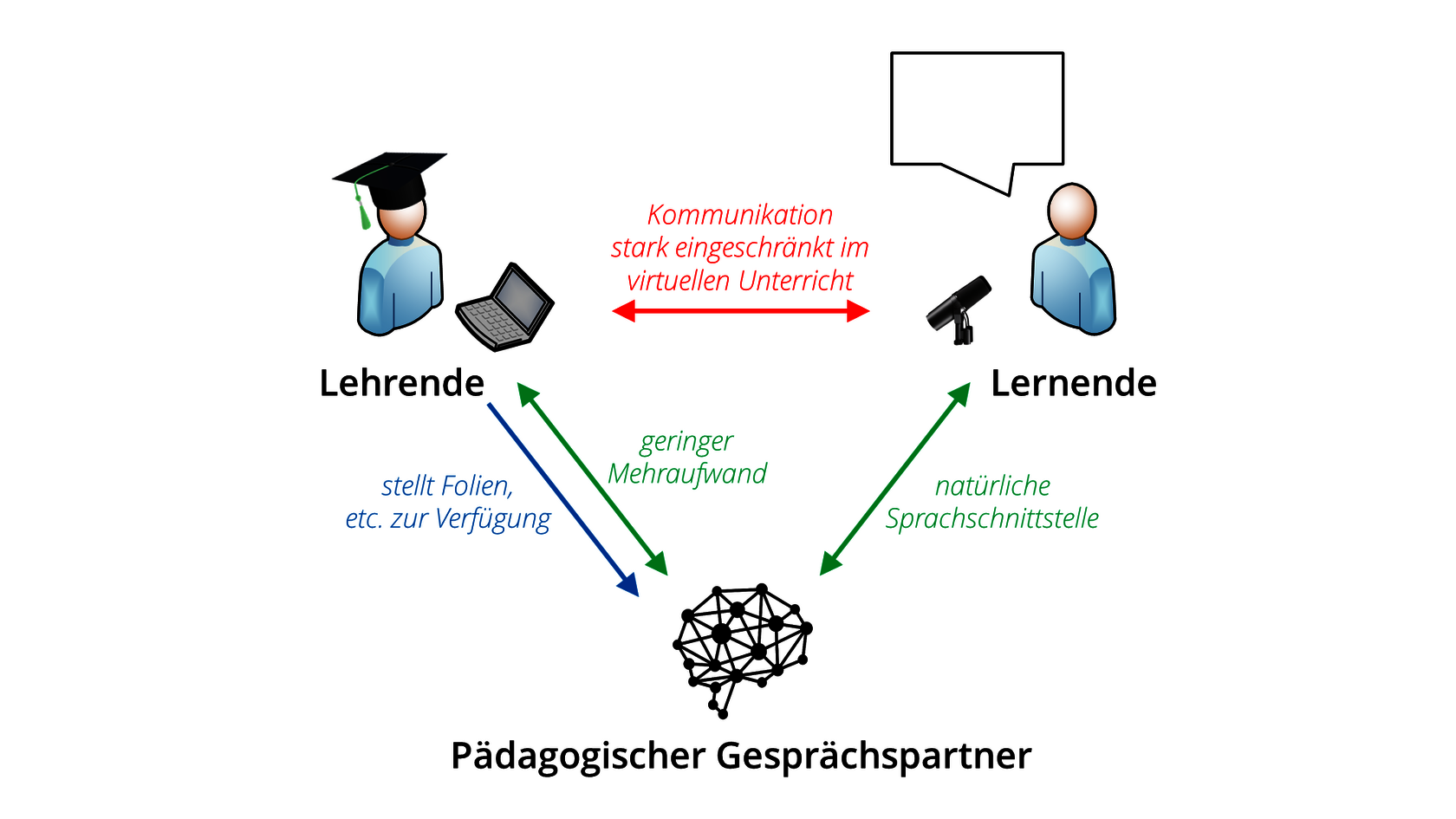 Matthias Wölfel
Concept of the "Digital Pedagogical Interlocutor