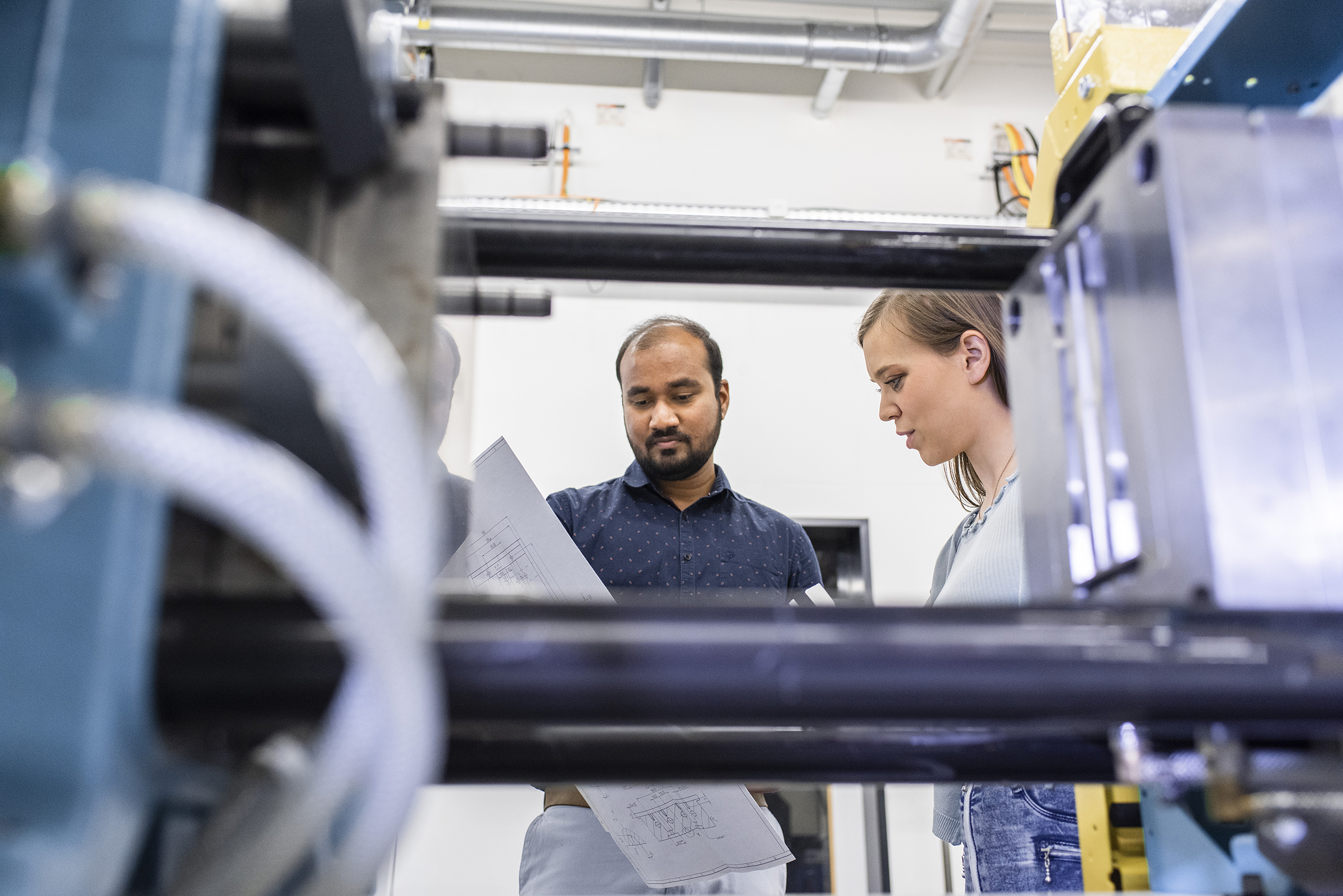 Prof. Dr.-Ing. Eric Brehm
Fakultät für Architektur und Bauwesen
Professor für Massivbau

Institut für Angewandte Forschung
Professor

Vita
Kurz-Vita
Studium Bauingenieurwesen an der TU Darmstadt und der University of Calgary, Alberta, Kanada
Wissenschaftlicher Mitarbeiter am Institut für Massivbau der TU Darmstadt
2011 Promotion zum Dr.-Ingenieur (mit Auszeichnung), ausgezeichnet mit dem Preis für die beste Dissertation, Freunde des Instituts für Massivbau der TU Darmstadt e.V.
seit 2007 BREHM Bauconsult GmbH; dort seit 2015 Geschäftsführender Gesellschafter
2011-2012 TÜV SÜD Industrie Service GmbH - Experte Bautechnik
2013 Schulich School of Engineering, University of Calgary (Calgary, Kanada) - Postdoctoral Fellow
2013-2014 Samac Engineering LTD. (Calgary, Kanada) - Forensic Engineer
seit 2017 Professor (W3) für Massivbau an der HKA
seit 07/2021 Vorsitzender des Vorstands im Deutschen Ausschuss für Mauerwerk e.V.
seit 2021 Vorsitzender des Lenkungsausschusses der Initiative Praxisgerechte Regelwerke im Bauwesen e.V.
Mitgliedschaften
Obmann des Technischen Ausschusses des Deutschen Ausschusses für Mauerwerksbau e.V.
Mitglied DIN Spiegelausschuss EC0 (Grundlagen der Tragwerksplanung)
Mitglied DIN Spiegelausschuss EC6 (Mauerwerk)
DIN Koordinierungsausschuss 01
IABSE
Ingenieurkammer Hessen
Verband Beratender Ingenieure
Teaching
Massivbau (nationaler und trinationaler Studiengang, 6. Semester)
Konstruktiver Ingenieurbau (4. Semester)
Baukonstruktion (2. Semester)
Stahlbetonbau (Master)
Research
Mitglied der Forschungsgruppe "Robotik und Autonome Systeme" (iRAS)
u.a. ZIM-Projekt "Entwicklung einer hochfesten Gebäudestütze aus 3D-gedrucktem Mauerwerk"
Publications
Als Herausgeber:
Mauerwerk-Kalender (ab Ausgabe 2021) in cooperation with Detleff Schermer, Ernst & Sohn, Berlin
Zeitschrift Mauerwerk, member of the editorial board, Ernst & Sohn, Berlin, ISSN 1432-3427
Als Autor:
Brehm, E. ; Pohl, S.
Nachhaltiges Bauen mit Mauerwerk, in: Hauke, Bernhard (Hrsg.): Nachhaltigkeit, Ressourceneffizienz und Klimaschutz – Konstruktive Lösungen für das Planen und Bauen – Aktueller Stand der Technik, ISBN 978-3-433-03334-0, Verlag Ernst & Sohn, Berlin, January 2021
Graubner, C.-A.; Brehm, E.; Förster, V.; Schermer, D.; Purkert, B.; Ostendorf; D.; Schmidt, U.; Scheller, E.
Eurocode 6 – DIN EN 1996 mit Nationalen Anhängen: Bemessung und Konstruktion von Mauerwerksbauten – Kommentierte Fassung, Beuth Verlag, ISBN 978-3-410-29779-6, Berlin, 2020
Brehm, E.; Hertle, R.
Design Review as a Powerful Tool to Address Human Factors: A Collaborative Approach, Structural Engineering
International, Volume 30, Issue 3, August 2020, IABSE, Zurich, Switzerland. ISSN 1016-8664
Brehm, E.; Hertle, R.; Soane, A.
Challenges Towards Design Review due to Cultural and Human Factors, Proceedings of the
2019 IABSE Congress, 4 – 6 September 2019, New York City, USA
Brehm, E. et al.
Practical Examples of Successful Design Review, Proceedings of the 2019 IABSE Congress,
4 – 6 September 2019, New York City, USA
Brehm, E.
Robotertechnik für den Mauerwerksbau – Internationaler Status und Überlegungen
für den deutschen Markt, Mauerwerk, Volume 23. April 2019. ISSN 1432-3427
Brehm, E.; Hertle, R.
Influence of the Design Review Process on the Structural design Review Engineer due to Human Factors,
Proceedings of the 5th fib Congress, 7 – 11 Oktober 2018, Melbourne, Australia
Brehm, E.; Hertle, R.
A Modified Design Approach to the Fatigue Limit State for Stud Shear Connectors in
Steel-Concrete-Composite Members, Proceedings of the 5th fib Congress,
7. – 11. Oktober 2018, Melbourne, Australien
Brehm, E.; Hertle, R.
A Critical Assessment of the Fatigue Verification Concept of Stud Shear Connectors in
Steel-Concrete-Composite Structures, Proceedings of the 40th IABSE Symposium,
19. – 21. September 2018, Nantes, Frankreich
Brehm, E.; Hertle, R.
Influence of the Design Review Process on the Structural Design Engineer due to Human Factors,
Proceedings of the 40th IABSE Symposium, 19. – 21. September 2018, Nantes, Frankreich
Brehm, E.; Hertle, R.
Influences on Determining Structural Reliability, Proceedings of 39th IABSE Symposium, Vancouver,
21. – 23. September 2017, Kanada
Brehm, E.; Hertle, R.
Failure Identification: Procedural Causes and Corresponding Responsibilities, Structural Engineering
International, Volume 27, Number 3, August 2017, IABSE, Zürich, Schweiz. ISSN 1016-8664
Brehm, E.; Maes, M.A.
Target Reliability of Steel Silos, Proceedings of ICOSSAR 2017, 6. – 10. August 2017, Wien, Österreich
Brehm, E.; Hertle, R.; Wetzel, M.
Influence of Human Error on Structural Reliability, Proceedings of IABSE Workshop Helsinki 2017,
15. – 16. Februar 2017, Finnland
Brehm, E.: Hertle, R.
An Empirically Verified System for Quality and Reliability Management, Proceedings of 19th
IABSE Congress Stockholm, 21. – 23. September 2016, Schweden
Dann, M.; Brehm, E.
"Determination of Corrosion Allowance for the Design of Silos Using Probabilistic Methods", Proceedings of 6th Asian-Pacific Symposium on Structural Reliability and Its Applications,
28. – 30. Mai 2016, Shanghai, China
Andrä, H.-P.; Brehm, E.
"Die Pränormative Arbeit an den nächsten Eurocodes der Initiative Praxisgerechte Regelwerke beweist: Eine sinnvolle Auflösung von Widersprüchen, unklaren Formulierungen und Doppeldeutigkeiten ist
machbar", Prüfingenieur 47, November 2015, VPI, Berlin. ISSN 1430-9084
Brehm, E.
"Reliability of Unreinforced Masonry Bracing Walls", Masonry International, International Masonry Society. ISSN 0950-2289, 2012
Brehm, E.
"Reliability of Unreinforced Masonry Bracing Walls – Probabilistic Approach and Optimized Target Values", Doctoral Thesis, Edition Prof. Dr. C.-A. Graubner (24). TU Darmstadt, Darmstadt, Deutschland.
ISBN 978-3-942886-02-4, 2011
Graubner, C.-A.; Brehm, E.
"Probabilistic Model Code: Masonry Properties", Part III, Section 3.2, Joint Committee on Structural Safety (JCSS), www.jcss.byg.dtu.dk, 2011
Dann, Markus R.; Brehm, E.
"Risk assessment of structures during construction for the optimal calibration of design factors",
International Forum on Engineering Decision Making (IFED), Lake Louise, Alberta, Januar 2012
Brehm, E.; Graubner, C.-A.
"Reliability of Unreinforced Masonry Bracing Walls", 15th International Brick and Block Masonry
Conference (IBMAC), Juni 2012, Florianópolis, Brasilien
Brehm, E.; Graubner, C.-A.; Lissel, S.L.
"Reliability of Masonry Walls Subjected to In-Plane Shear", Darmstadt Concrete, Vol. 24, 2009
Brehm, E.; Dickie, J.E. und Lissel, S. L.
"Reliability of Reinforced Masonry Walls Subjected to In-Plane Shear", in: Van Gelder, Proske & Vrijling (eds.): Proceedings of the 7th International Probabilistic Workshop, 23. – 26. November 2009,
Delft, Niederlande, pp. 531-543. ISBN: 978-3-00-025048-4
Brehm, E.; Dickie, J.E. und Lissel, S.L.
"Reliability of Masonry Panels Subjected to In-Plane Shear", in: El-Dakhakhni, W.W. and Drysdale, R.G.
(Editors) 2009. Proceedings of the 11th Canadian Masonry Symposium, Department of Civil Engineering, McMaster University, Hamilton, Ontario, Canada
Richter, L.; Brehm, E.
"Load-Bearing Capacity of Flexural Unreinforced Masonry Wall Panels", in: El-Dakhakhni,
W.W. and Drysdale, R.G. (Editors) 2009. Proceedings of the 11th Canadian Masonry Symposium,
Department of Civil Engineering, McMaster University, Hamilton, Ontario, Kanada
Brehm, E.
"Analytical Procedure For the Determination of the Decisive Load Combination For Masonry Walls", Darmstadt Concrete, Vol. 23, 2008
Glowienka, S.; Brehm, E.
"Probabilistic Analysis of Unreinforced Masonry Consisting of Large Units", Proceedings of the 6th
International Probabilistic Workshop, Editors: Graubner, C.-A.; Schmidt, H.; Proske, D.,
26. – 27. November 2008, Darmstadt. ISBN: 978-3-00-025050-7
Maes, M.A.; Dann, M.R.; Breitung, K.W.; Brehm, E.
"Hierarchical Modeling of Stochastic Deterioration", Proceedings of the 6th International Probabilistic Workshop, Editors: Graubner, C.-A.; Schmidt, H.; Proske, D. 26. – 27. November 2008, Darmstadt.
ISBN: 978-3-00-025050-7
Brehm, E.; Schmidt, H.; Graubner, C.-A.
"Model Uncertainties for Shear Capacity Prediction of Reinforced Concrete Members", Proceedings
of the 6th International Probabilistic Workshop, Editors: Graubner, C.-A.; Schmidt, H.; Proske, D.,
ISBN: 978-3-00-025050-7, 26. – 27. November 2008, Darmstadt
Graubner , C.-A.; Brehm, E.; Glowienka, S.
"Economic Potentials of Probabilistic Optimization Methods", Beton- und Stahlbetonbau,
Volume 103, ISSN 0005-9900, April 2008
Brehm, E.; Graubner, C.-A.; Glowienka, S.
"Economic Potentials of Probabilistic Optimization Methods", Proceedings of the 5th International
Probabilistic Workshop, Ghent 2007
Brehm, E.; Graubner, C.-A.
"Analysis of the governing load combinations in masonry construction", Darmstadt Concrete, Vol. 22, 2007
Graubner, C.-A.; Brehm, E.
"Bemessungskonzept für Mauerwerk unter Brandeinwirkung (Design concept for masonry under fire)", research report F03-7-2009 of the Institute for Concrete and Masonry Structures of TU Darmstadt,
funded by BBSR, 2010
Brehm, E.; Graubner, C.-A.; Lissel, S.L.
"Zuverlässigkeit bewehrter Mauerwerksscheiben unter Schubbeanspruchung (Reliability of Reinforced Masonry Walls Subjected to In-Plane Shear)", Darmstadt Concrete, Vol. 24, 2009
Graubner, C.-A.; Brehm, E.
"Bemessung von unbewehrtem Mauerwerk nach neuer Normengeneration (Design of Unreinforced
Masonry according to the New Code Generation)", in: Mauerwerksbau aktuell 2010 –
Praxishandbuch für Architekten und Ingenieure, Edition Bauwerk, Berlin. ISBN 978-3-89932-246-0
Graubner, C.-A.; Brehm, E.; Kranzler, T.
"Zukünftige Bemessung von Mauerwerk – Genaueres Verfahren (Future Design of Masonry – Exact
Procedure)", Mauerwerk, Vol. 13, Issue 5, Edition Ernst & Sohn. September 2009, Berlin. ISSN 1432-3427
Graubner, C.-A.; Brehm, E.
"Heißbemessung von Bauteilen aus Mauerwerk nach dem Teilsicherheitskonzept (Fire Design of Masonry using Partial Safety Factors)", in: Linke, H. J. (Ed.), Proceedings of the 1. Darmstädter Ingenieurkongress,
14. – 15. September 2009, Darmstadt. ISBN 978-3-941799-00-4
Graubner, C.-A.; Brehm, E.
"Analyse der maßgebenden Einwirkungskombinationen zur rationellen Bemessung von unbewehrten
Bauteilen im üblichen Hochbau (Analysis of the governing load combinations for efficient design in
common construction)", research report F07-6-2009 of the Institute for Conrete and Masonry Structures of TU Darmstadt, funded by BBR, 2009
Brehm, E.
"Analytisches Verfahren zur Bestimmung der maßgebenden Einwirkungskombination bei
Mauerwerkswänden (Analytical procedure for the determination of the governing load combination
for masonry walls)", Darmstadt Concrete, Vol. 23, 2008
Graubner, C.-A.; Brehm, E.; Jäger, W.; Reichel, S.
"Bemessung von Mauerwerk nach DIN 1053-11 und DIN 1053-13 (Design of Masonry according to DIN 1053-11 and DIN 1053-13)", Mauerwerk, Volume 12, Issue 6 (p 295-308), Ernst & Sohn, Berlin, 2008
Brehm, E.; Graubner , C.-A.
"Analyse der maßgebenden Einwirkungskombinationen im Mauerwerksbau (Analysis of the governing load combinations in masonry construction)", Darmstadt Concrete, Vol. 22, 2007
Graubner, C.-A.; Brehm, E.
"Neue Normengeneration im Mauerwerksbau – Sind Poren- und Leichtbetonwände noch
konkurrenzfähig? (New code generation in masonry design – Are autoclave aerated concrete and
lightweight concrete walls still efficient?)", Ulmer Betontage 2008