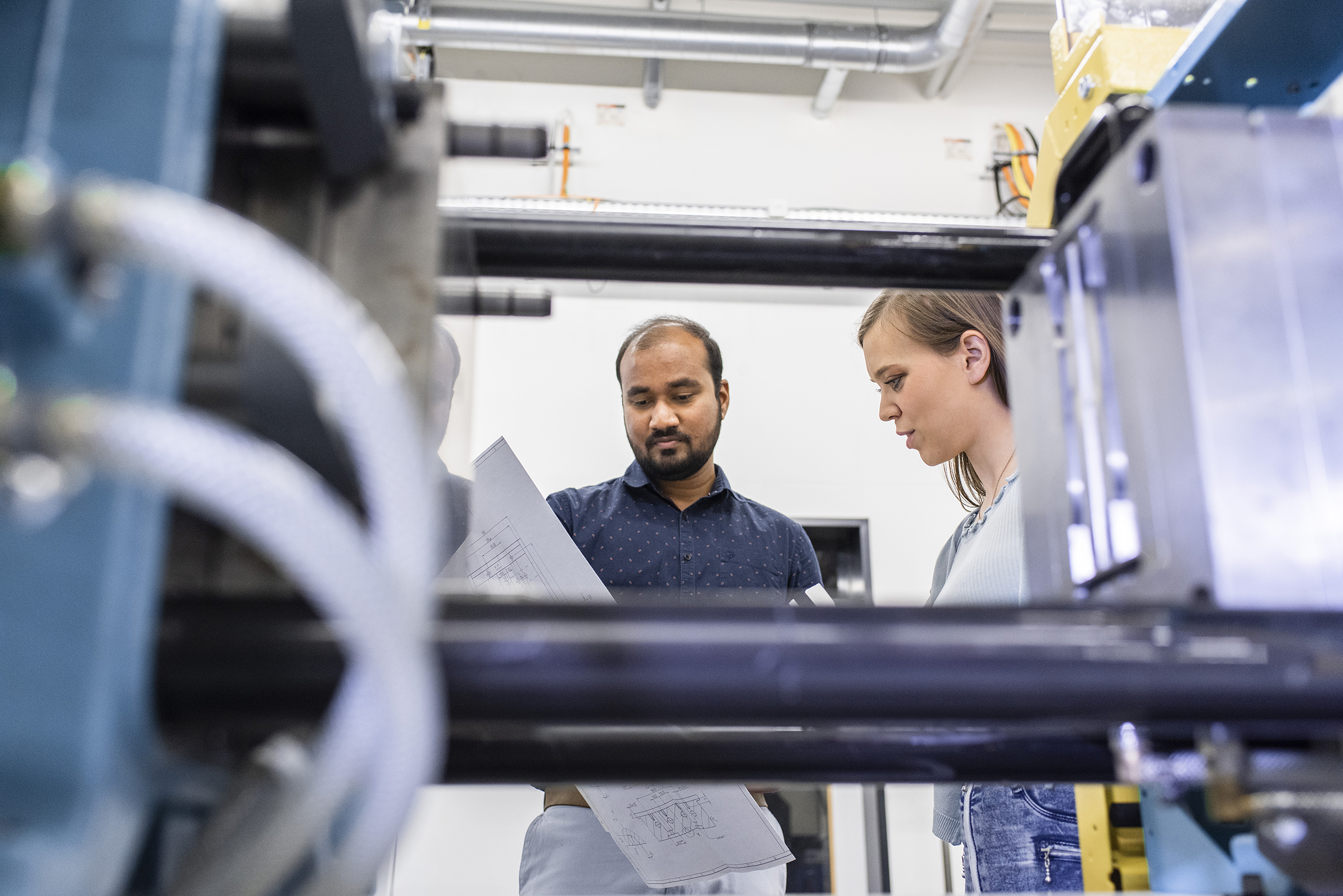 Prof. Dr.-Ing. Claas Christian Wuttke
Fakultät für Wirtschaftswissenschaften
Professor für Produktion, Logistik und industrielle Dienstleistungen

Vita
Hochschule Karlsruhe (Seit 2010):
Professor für Produktion, Logistik und industrielle Dienstleistungen
Studiendekan Master Wirtschaftsingenieurwesen (2017-18)
Studiendekan Master International Management (2012-16)
Prodekan für Internationalisierung (2012-16)
Robert Bosch GmbH (2000-2010)
Leiter Produktionstechnik und Projektierung E-Motoren
Leiter Prototypen-Fertigung Diesel-Einspritzpumpen
Leiter Entwicklung von Fertigungsprozessen
Projektleiter Forschung Digitale Fabrik
Universität des Saarlandes, Lehrstuhl für Fertigungstechnik / CAM, Prof. Dr. Helmut Bley (1995-2000)
Promotion: "Mehrfachnutzung von Simulationsmodellen in der Produktionslogistik"
Forschungs- und Industrieprojekte zur digitalen Fabrikplanung
Gastwissenschaftler am Korea Institute of Science and Technology, Seoul
Universität Stuttgart (1989-1995)
Studium des Maschinenbaus
Vertiefungen: Fabrikplanung sowie Technologiemanagement
Praktikum am Institute de Recherche de la Sidérurgie Francaise
Teaching
Produktion und Logistik:
Logistik: Grundlagen
Logistik C: Methoden zur Planung und Optimierung logistischer Netzwerke
Globale Wertschöpfungsnetzwerke
Digitale Services, Produkte und Geschäftsmodelle:
Entwicklung von Dienstleistungen
Entwicklung von Smart Products und Services
Entwicklung Digitaler Geschäftsmodelle
Research
Entwicklung datenbasierter Services und digitaler Geschäftsmodelle:
Interdisziplinäres Arbeiten
Branchen- und unternehmensspezifische Entwicklungsprozesse
Kundeneinbindung bei Innovation und Entwicklung
Entwicklungsbegleitende Kostenkalkulation
Prototyping von Produkt-Service Systemen
Ideenfindung und Entwicklung von produktbegleitenden Services
Publications
Seit 2010:
Strategic planning of continuous stakeholder involvement in the design of industrial product-service systems. IET Collaborative Intelligent Manufacturing 2 (2020) 3, p. 123-131. Zusammen mit Y. Haussmann.
Methoden und Prozessportfolio zur Entwicklung von Smart Services und Smart Products. Forschung aktuell, Hochschule Karlsruhe (2020), S. 48-51.
Production Networks with Eastern Europe – Formation, Status and Future. Karlsruher Hochschulschriften für Wirtschaftsingenieurwesen und International Management, 2/2019. Zusammen mit Barnett C, Merklinger I, Wolter L.
Individualized Customer Integration Process for the Design of IPSS. Procedia CIRP 63 (2019), p. 83–88. Zusammen mit B. Deck, Y. Haussmann, W. v. Hülsen, J. Ilg, S. Schneider, F. Pereira, M. Pester.
Systematic Prototyping of Product-Service Systems. Procedia CIRP 73 (2018), p. 50-55. Zusammen mit J. Ilg A. Siefert.
Adaptable and Customizable Development Process for Product-Service Systems. Procedia CIRP 47 (2016), p. 317-322. Zusammen mit P. Ludihuser und S. Bleiweis.
Methods and Tools for Enabling Employees to Contribute to Technological Progress. International Journal of Engineering Pedagogy (iJEP), 6 (2016) 3, p. 45-52. Zusammen mit M. Jeretin-Kopf, R. Haas und C. Wiesmüller.
Neue "smarte" Dienstleistungen als Geschäftsmodell – Von der Idee bis zum Einsatz. Ralf-Christian Härting (Hrsg.): Industrie 4.0 und Digitalisierung – Innovative Geschäftsmodelle wagen! 2016, S. 94-111 .
Neue Dienstleistungen durch Industrie 4.0 – professionell, nachhaltig und ertragreich. Oliver Brehm, Rüdiger Haas, Maja Jeretin-Kopf (Hrsg.): Industrie 4.0 in KMU – Sind Sie fit für die Zukunft? 2016, S. 30-34.
Kundenorientierte Entwicklung von Dienstleistungen – ziel- und risikoadäquates Methodenportfolio zur Einbindung von Kunden in die Gestaltung von Dienstleistungen. Industrie 4.0 Management, 32 (2016) 1, S. 19-24. Zusammen mit S. Gärtner und T. Ackbarow.
Professionalisierung industrieller Dienstleistungen durch Nutzung eines individualisierten Produktentstehungsprozesses (iPEP). Zeitschrift für wirtschaftlichen Fabrikbetrieb ZWF, 110 (2015) 3, S. 126-129. Zusammen mit P. Ludihuser.
Berücksichtigung von Produkttechnologiesprüngen in der Planung von Produktionssystemen. Forschung aktuell, Hochschule Karlsruhe 2015, S. 79-81. Zusammen mit S. Haas.
Zukunftsfähige Produktionssysteme – Berücksichtigung der Wandlungsfähigkeit im Produktentstehungsprozess. Zeitschrift für wirtschaftlichen Fabrikbetrieb ZWF, 109 (2014) 3, S. 133-137. Zusammen mit E. Sheehan , S. Haas und M. Lickefett.
Tabletcomputer in der Teilefertigung – Potentiale und Nutzen. Forschung aktuell, Hochschule Karlsruhe 2013, S. 83-85.
Was kommt nach der Digitalen Fabrik? Forschung aktuell, Hochschule Karlsruhe 2012, S. 77-79.
Mobile Computing in der Teilefertigung. Zeitschrift für wirtschaftlichen Fabrikbetrieb ZWF, 107 (2012) 12, S. . Zusammen mit P. Holtewert, S. Erdrich und M. Lickefett.
Schlanke Lieferketten in der Automobilzulieferindustrie. Logistik für Unternehmen 1/2-2011, S. 46-49. Zusammen mit B. Potrafki.
Interests
Unternehmenskooperationen in Forschung und Lehre zu den o.g. Schwerpunkten
Internationalisierung / Hochschulkontakte - insbesondere Ostasien: Südkorea, Japan und China
Innovative Lehrkonzepte, Studiengangs-Entwicklung.